Boston's Grammy-winning Handel and Haydn Society performs Baroque and Classical music with a freshness, a vitality, and a creativity that inspires all ages. H+H has been captivating audiences for 209 consecutive seasons (the most of any performing arts organization in the United States), speaking to its singular success at converting new audiences to this extraordinary music, generation after generation.
H+H performed the "Hallelujah" chorus from Handel's Messiah in its first concert in 1815, gave the American premiere in 1818, and ever since has been both a musical and a civic leader in the Boston community. During the Civil War, H+H gave numerous concerts in support of the Union Army (H+H member Julia Ward Howe wrote "The Battle Hymn of the Republic") and on January 1, 1863, H+H performed at the Grand Jubilee Concert celebrating the enactment of the Emancipation Proclamation. Two years later, H+H performed at the memorial service for Abraham Lincoln.
Today, H+H's Orchestra and Chorus delight more than 50,000 listeners annually with a nine-week subscription series at Symphony Hall and other leading venues. Through the Karen S. and George D. Levy Education Program, H+H supports seven youth choirs of singers in grades 2–12, and provides thousands of complimentary tickets to students and communities throughout Boston, ensuring the joy of music is accessible to all. H+H's numerous free community concerts include an annual commemoration of the original 1863 Emancipation Proclamation concert on December 31 of every year, in collaboration with the  Museum of African American History. H+H has released 16 CDs on the CORO label and has toured nationally and internationally. In all these ways, H+H fulfills its mission to inspire the intellect, touch the heart, elevate the soul, and connect all of us with our shared humanity through transformative experiences with Baroque and Classical music.
"A phenomenal performance… the music crackled with delight."
– The Boston Globe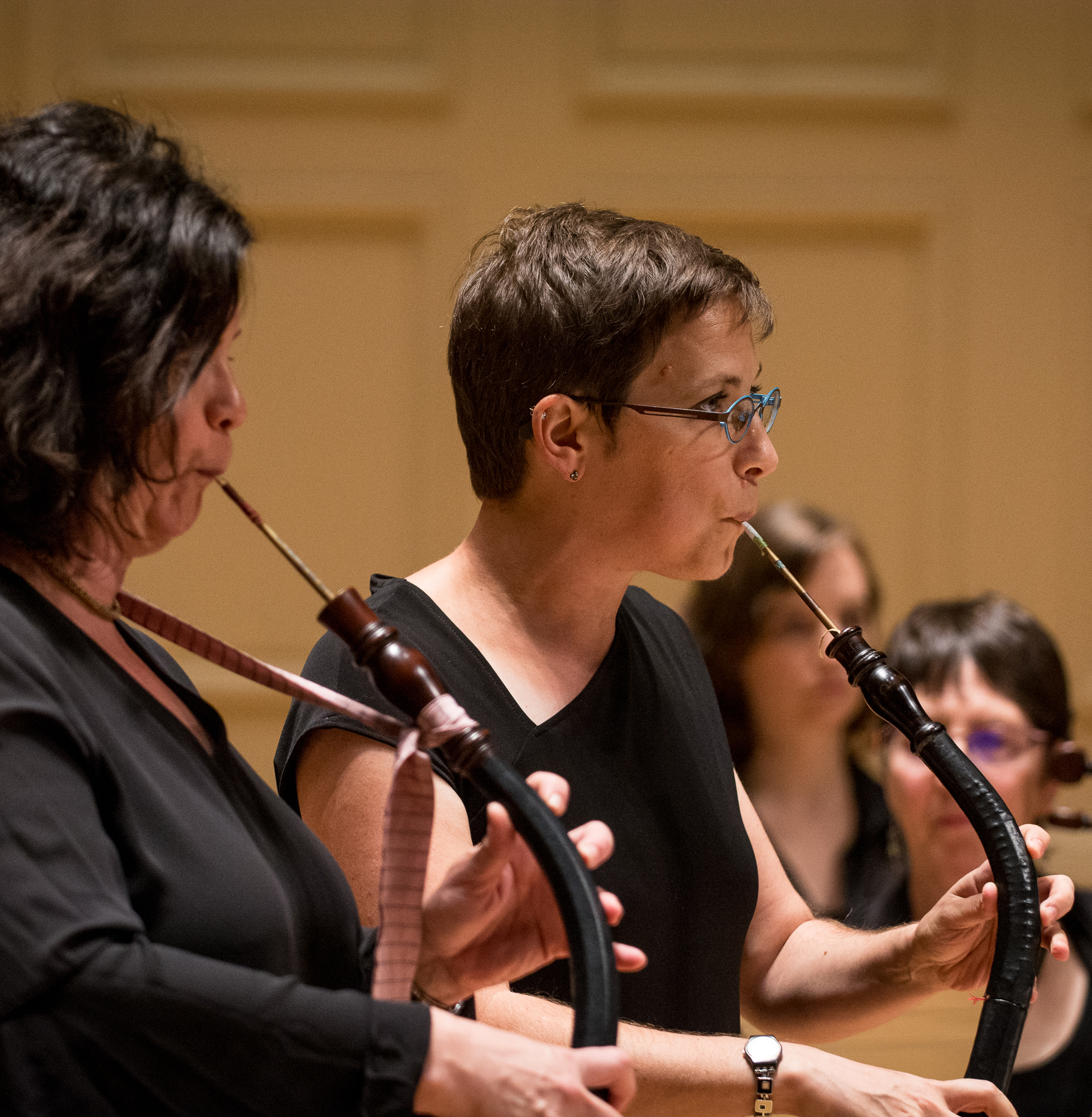 Historically Informed Performance
The Handel and Haydn Society began its tradition of Historically Informed Performance (HIP) in 1986 when Christopher Hogwood assumed the position of Artistic Director. Since then the Society has emerged as one of the nation's preeminent period orchestras.
The HIP movement began in the 1970s when people started to ask why works were being performed on instruments that hadn't been available to the artists who composed them. For instance, the keyboard Bach used was different from the one used by Mozart, and in turn the one used by Mozart was very different from that of Beethoven. In order to appreciate the intended effects of their works, it made sense that they be performed on the instruments for which they were written.
The most visible differences between modern and period instruments can be seen in the woodwinds, which have fewer keys and are actually made of wood instead of metal or plastic. Brass instruments, meanwhile, have simpler lines and no valves. More subtle differences include the use of gut strings instead of steel in the string section, as well as lower pitches throughout the orchestra.
Ensembles were far smaller in the 18th century, and composing a symphony for 100 players was unheard of. Therefore, HIP orchestras are also smaller, with Handel and Haydn's ranging from 25 to 50 instrumentalists depending on the performance.
Through HIP, audiences have the opportunity to hear the unique textures and dynamics afforded by period instruments and orchestras. Musical lines that might disappear in larger ensembles become clearer and more prominent, and the end result is a truly intimate and gratifying musical experience.
OVER 200 YEARS OF HISTORY
H+H began as a choral society founded by middle-class Bostonians who aspired to improve the quality of singing in their growing American city. They named the organization after two composers—Handel and Haydn—to represent both the old music of the 18th century and what was then the new music of the 19th century. In the first decades of its existence, H+H gave the American premieres of Handel's Messiah (1818), Haydn's Creation (1819), Verdi's Requiem (1878), and Bach's St. Matthew Passion (1879). Between 2014 and 2016, H+H celebrated its Bicentennial with two seasons of special concerts and initiatives to mark 200 years of music making. Since its founding, H+H has given more than 2,000 performances before a total audience exceeding 2.8 million.
In addition to its subscription series, tours, and broadcast performances, H+H reaches a worldwide audience through ambitious recordings including the critically-acclaimed Haydn The Creation, the best-selling Joy to the World: An American Christmas, and Handel Messiah, recorded live at Symphony Hall.