The purpose of the Handel and Haydn Society Archives is to collect, preserve and make available the records, material, and artifacts which document the over 200 year history and the official activities of the Handel and Haydn Society (H+H). The H+H Archives collects the business, legal, and administrative records; records of rehearsals and concerts (such as programs, reviews, scrapbooks, posters, and related ephemera); images and audio recordings. The Archives aims to gather an authentic record of H+H's activities and to oversee the management of the collection.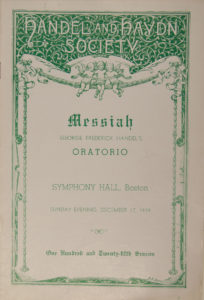 Past Program Books
H+H maintains an archive of more than 1,000 concert program books going back more than 200 years. This archive, totaling 30,000 pages of historical material, is a treasure trove of both musical and social history in America, unmatched by any other arts organization in the country. And now, with the help of our good friends at Boston Public Library and Digital Commonwealth, the story this collection tells, from July 1818 through April 2016, is available to the public for the very first time.
Scrapbooks Collection
The scrapbooks collection consists of scrapbooks arranged by performance season (ca 1830 – present). Many of these scrapbooks (1834 -1989) have been microfilmed and are available at the Boston Public Library (BPL). Some of the physical scrapbooks are located at the BPL, while the rest are housed onsite in the Handel and Haydn Society Archives. Please consult BPL and H+H finding aids for specific dates.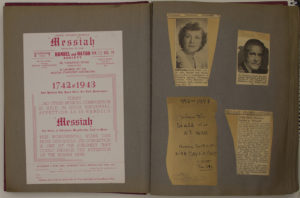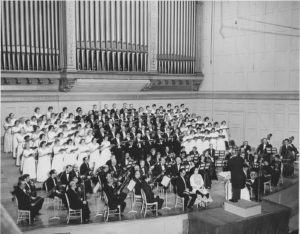 Visual Collection
The visual collection contains photographs, posters, paintings, drawings, and other visual material representing Handel and Haydn Society performances, people, events, and activities. This collection includes images of soloists, conductors, orchestra and chorus members, and staff of H+H. Images also document events and places such as performances, festivals, galas, benefits, and concert halls.
Press Clippings Collection
The Archives contains news clippings about the Handel and Haydn Society and its members. Clippings date back to 1816 and continue through today. Clippings include concert reviews, news stories, and advertisements.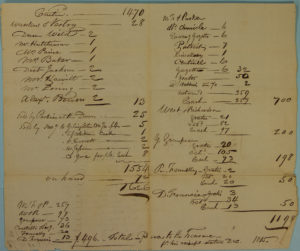 Business Records
The Archives collects records and publications created in the course of H+H business from ca. 1815 to the present. These are organized by department and include administrative and operational, artistic, marketing, development, and education. These collections contain material with permanent historical value in documenting the activities, programs, decisions, and individuals of H+H.
Personal Collections
The Archives collects the personal and professional papers and manuscripts created by individuals who have had a significant relationship with H+H. These include, but are not limited to, collections of administrators, staff, performers, and others with close ties to H+H.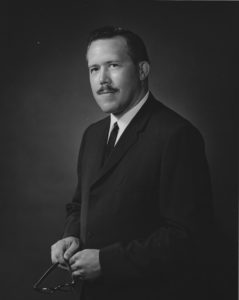 FOR RESEARCH QUESTIONS AND INFORMATION ABOUT DONATING MATERIAL TO THE ARCHIVES, PLEASE CONTACT THE ARCHIVIST.
For information about donating material to the H+H Archives or to ask any research questions, please contact the Archivist at archivist@handelandhaydn.org or 617.262.1815.