From the Handel and Haydn Society's opening concert on Christmas Day, 1815, George Frideric Handel's Messiah has been synonymous with H+H. It is the most frequently performed work in H+H's history and our annual performances of Messiah at Symphony Hall are a beloved Boston tradition. Explore this dynamic digital exhibit featuring treasures from the H+H Archives, and discover the intertwining stories of Handel's most famous sacred oratorio and America's oldest performing arts organization.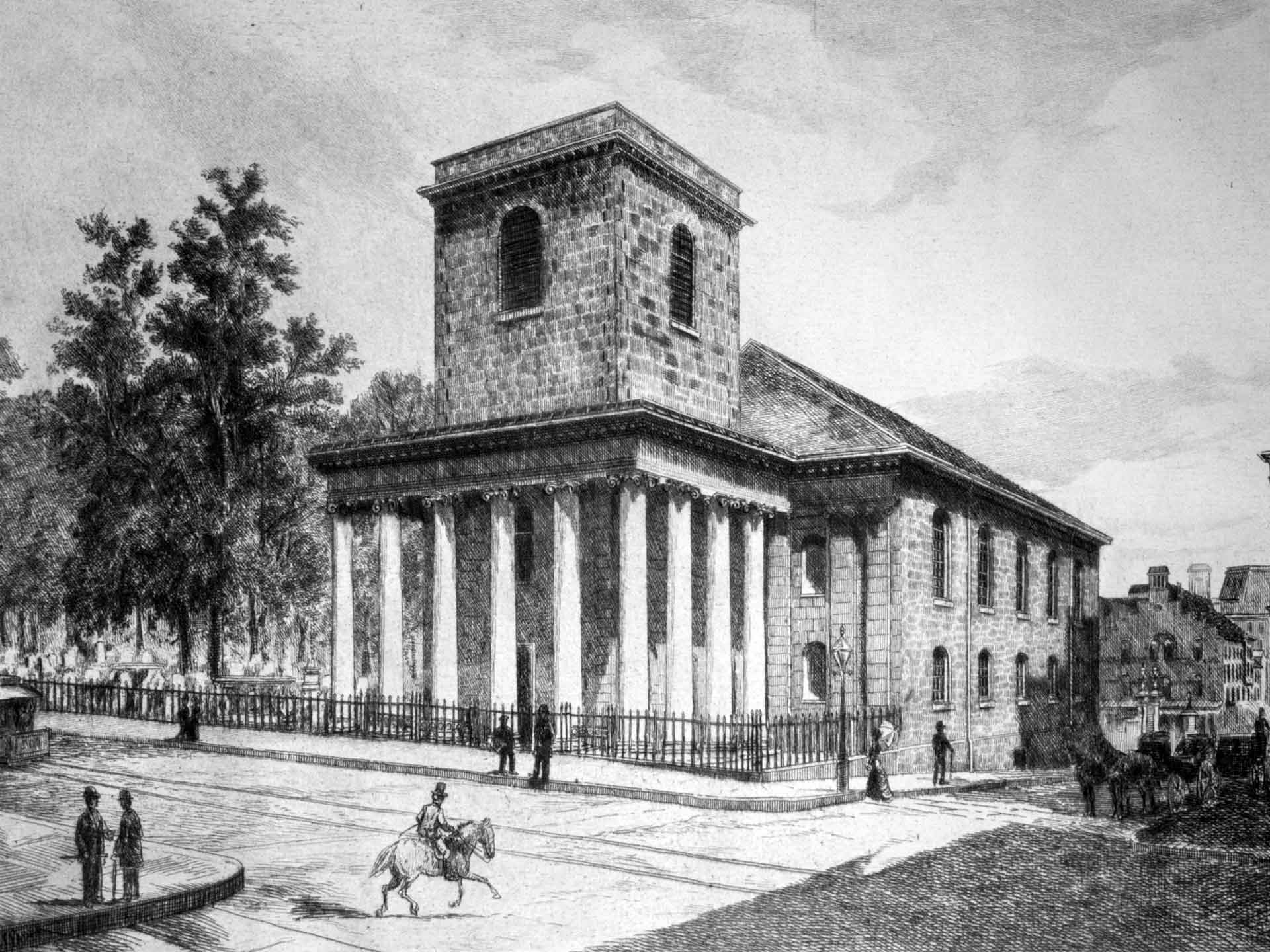 Engraving of King's Chapel by H. L. Everett, 1890, courtesy of King's Chapel, Boston
A Premiere and an Identity
The first Handel and Haydn Society concert, presented on Christmas Day to an audience of 1,000 at King's Chapel in Boston, concluded with two arias and two choruses, including the "Hallelujah" Chorus, from Messiah, and H+H has been defined by its attachment to the oratorio ever since. H+H published a score of the work around 1816, and it was the Society who gave the American premiere of the complete work on December 25, 1818. H+H performed Messiah in part or in full roughly every other year for the next four decades, and from 1854, Messiah has formed the cornerstone of H+H's programming.
H+H Messiah performances through the nineteenth century were historically enormous productions and typically employed reorchestrations that ballooned Handel's original chamber ensemble to triple digits. Numerous composers reorchestrated the oratorio in accordance with changing tastes, and the dictates of fashion pushed the chorus count increasingly higher. The Society's American premiere performance in 1818 comprised about 200 singers; in 1857, that number had grown to a staggering 680-person chorus.
In 1875, H+H commissioned Robert Franz to arrange Wolfgang Amadeus Mozart's orchestration. This arrangement was premiered by H+H on December 24, 1876 and alongside Ebenezer Prout's orchestration, was the favored score for almost the next century of H+H Messiah performances.The trend of larger choruses continued into the twentieth century.
By mid-century, although many Messiah faithfuls would affirm the "cumulative power" of so many voices, debates brewed about whether these bloated performances were worth the lack in authenticity to the original composition. With the arrival of Music Director Thomas Dunn in 1967, H+H entered into a time of significant transition, paring down its membership, moving from an amateur to professional chorus, and reorienting to historically-informed performance. Beginning in 1968, Messiah performances featured closer to 40 vocalists–and there the number has stayed.
Over the course of his tenure at H+H, Dunn cycled through all known historical versions of Messiah, but the orchestra played exclusively on modern instruments. The final step toward historically-informed performance of the work occurred under Christopher Hogwood, who led the reinvention of the Handel and Haydn Society as a period-performance ensemble in 1986 with the establishment of the H+H Period Orchestra and Chorus. H+H's debut recording using period instruments featured Mozart's 1789 arrangement of Messiah, conducted by Andrew Parrott.
Under current music director Harry Christophers, H+H continues to explore Messiah's nuances, reflecting a historical awareness of the size of the ensemble, the instruments available, and the way those instruments were played in Handel's day. In 2014, H+H released its fourth Messiah recording as part of its bicentennial celebrations. Today's performances employ around 30 voices and derive from the original 1742 Dublin version.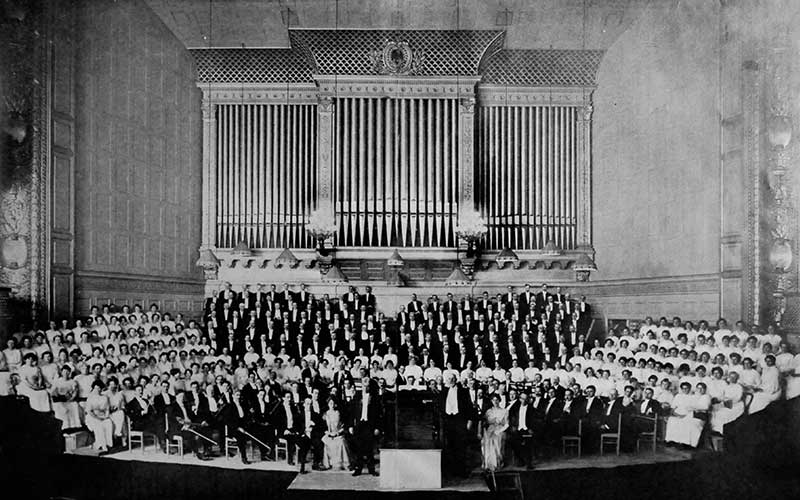 1915
Approximately 300 singers
50 orchestra players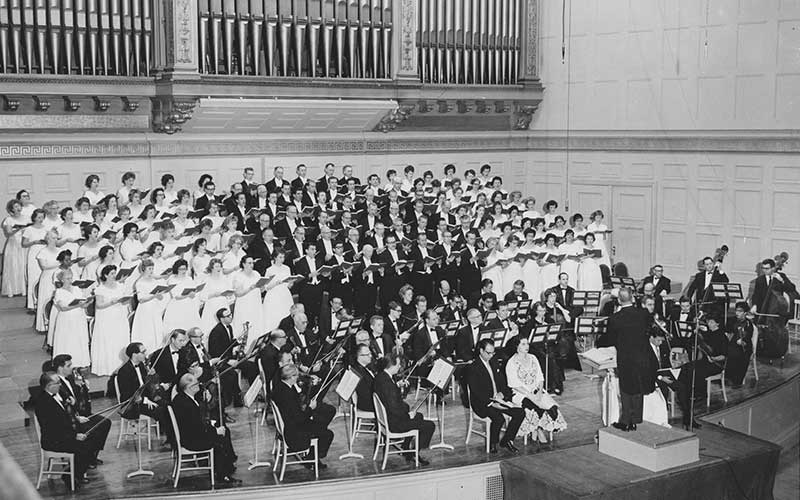 1962
Approximately 125 singers
40 orchestra players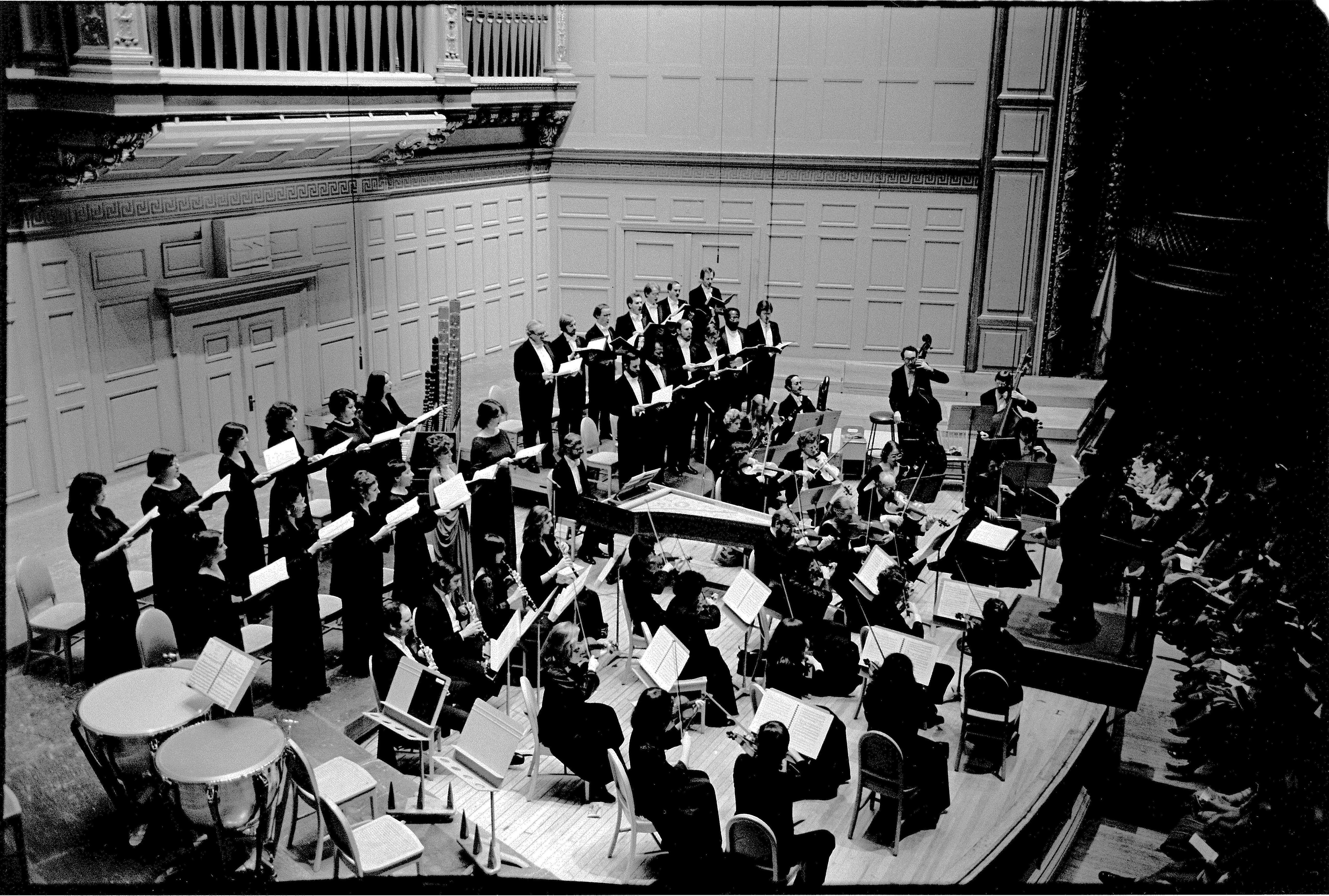 1985
25 singers
25 orchestra players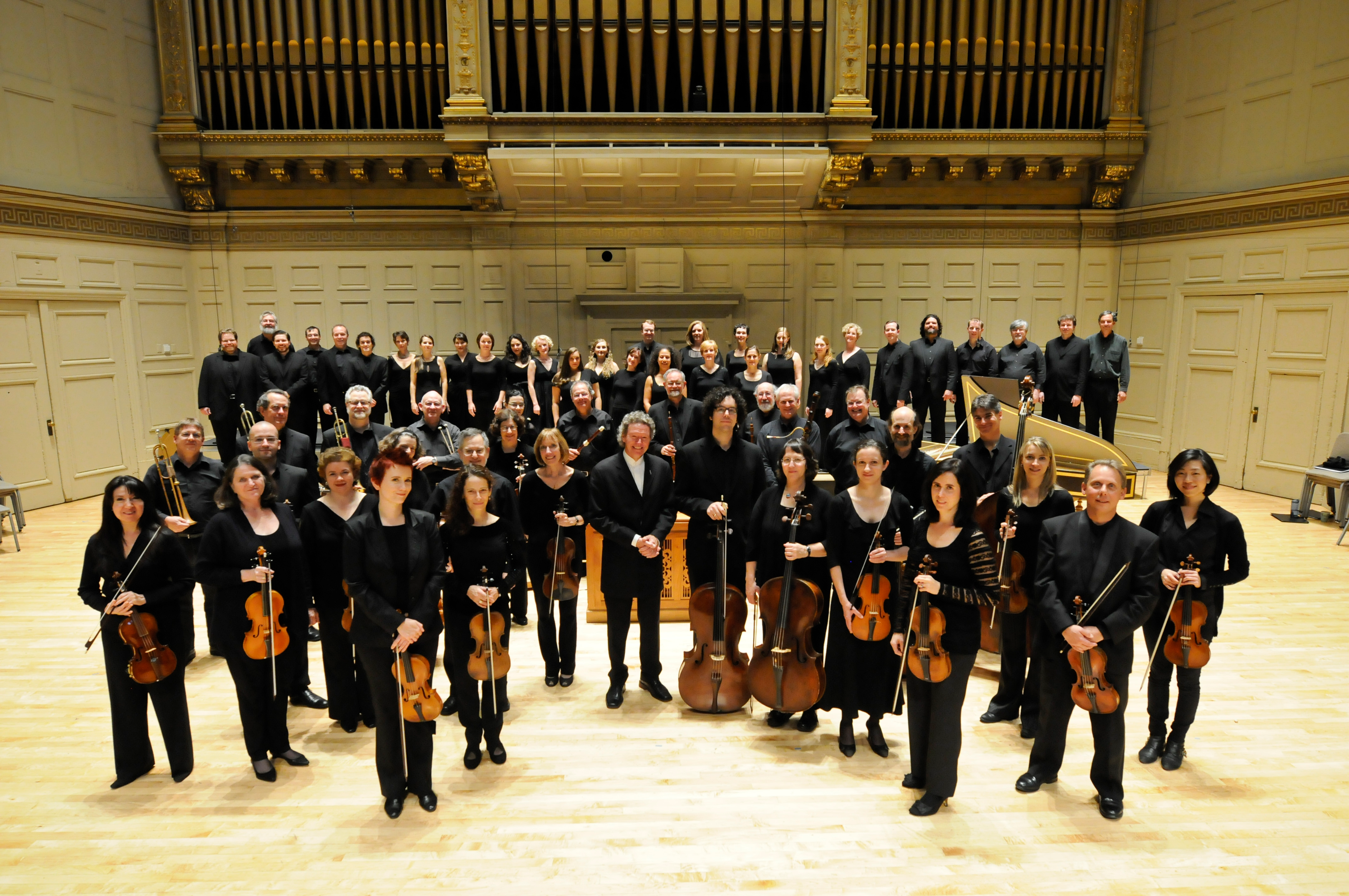 2013
30 singers
30 orchestra players
"Around 1963, when my husband and I were dating, the first birthday present I ever gave him was two tickets to Messiah. We have been to a great many, but I always remember our first performance as very special."
PAT MACKINNON
Longtime Subscriber,
Former H+H Board Member
Boston Institution, Christmas Tradition
Despite having been conceived as a work for Easter and premiered during Lent, Messiah has become synonymous with Christmas celebrations in the United States and abroad. In Boston, the Handel and Haydn Society has performed Messiah every year since 1854 at Christmastide without interruption. Even when financial difficulties compelled H+H to scale down their programming, Messiah at Christmas was never not on the docket. This note, penned by H+H Manager Elizabeth Burt in the middle of World War II, testifies to the persistence of the work and the expectation that H+H would perform it: Symphony Hall was sold out nine days ahead of the December 19, 1943 concert.
As technology improved, H+H was able to deliver Messiah beyond Boston. Under music director Edward Gilday, H+H recorded several abridged Messiah performances for television broadcast. In December 1963, H+H gave the first national television broadcast of the complete, uncut Messiah on WGBH, to the thrill of Messiah lovers across the country.
Despite being a staple of Christmas celebrations in Boston—or perhaps because of it—the Handel and Haydn Society's annual performances of Messiah were consistently a popular topic of discussion among the city's residents and professional music critics alike. In the mid-1960s, cultural conversation about Messiah increasingly centered on the question of which was the more authentic Messiah experience—the multi-hundred voice chorus filling Symphony Hall to the brim, or a more intimate interpretation with the original numbers for which Handel had written two hundred years prior? In the debate between traditions, proponents of historically-informed performance contended that the triple-digit chorus was bloated and could not communicate the text's drama, whereas fans of the large-scale performances favored the sheer power of delivery and argued for its infectious joy. Over the course of the second half of the twentieth century, the Handel and Haydn Society embraced the historically-informed interpretations of Messiah as well as the rest of its Baroque and Classical repertoire, and each year's concerts are an opportunity to plumb the depths of the work anew.
Today, H+H Messiah concerts attract 6,000 audience members to Boston's Symphony Hall every year.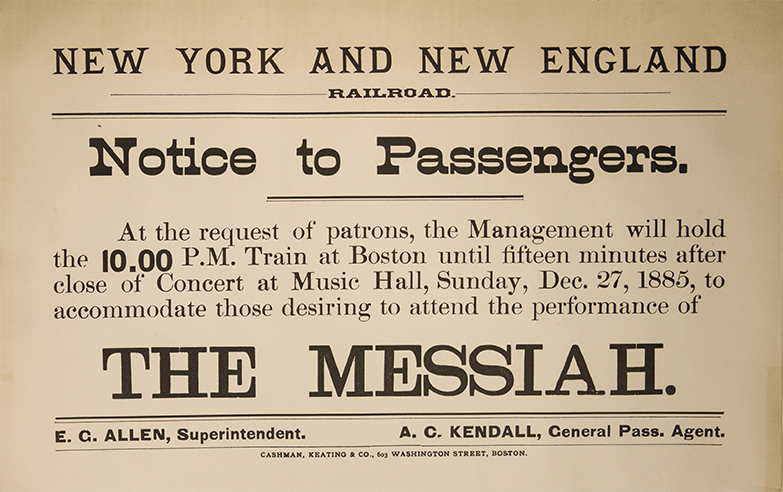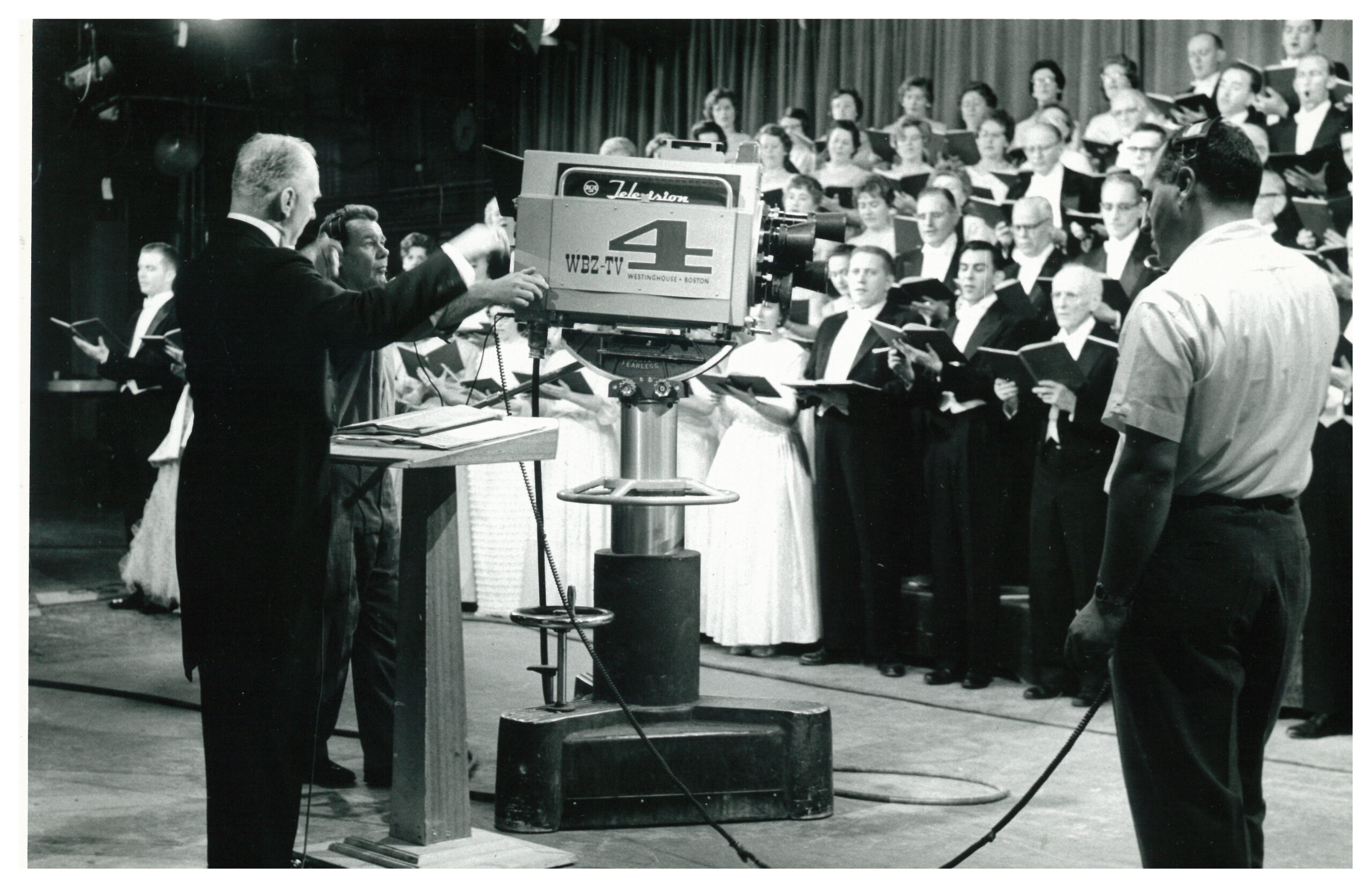 Television broadcast of H+H's annual Messiah performance, 1963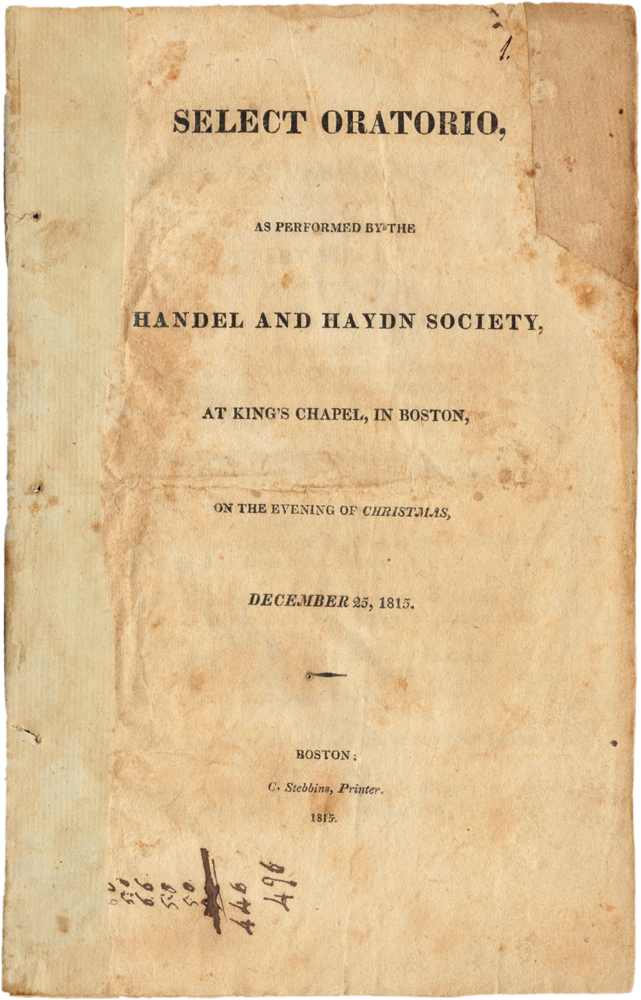 Program cover for Handel and Haydn Society concert of December 25, 1815
The handwriting at the bottom is a tally of the total number of tickets sold (496) for the first concert.
Another 412 were given away to members, performers, press, and other guests.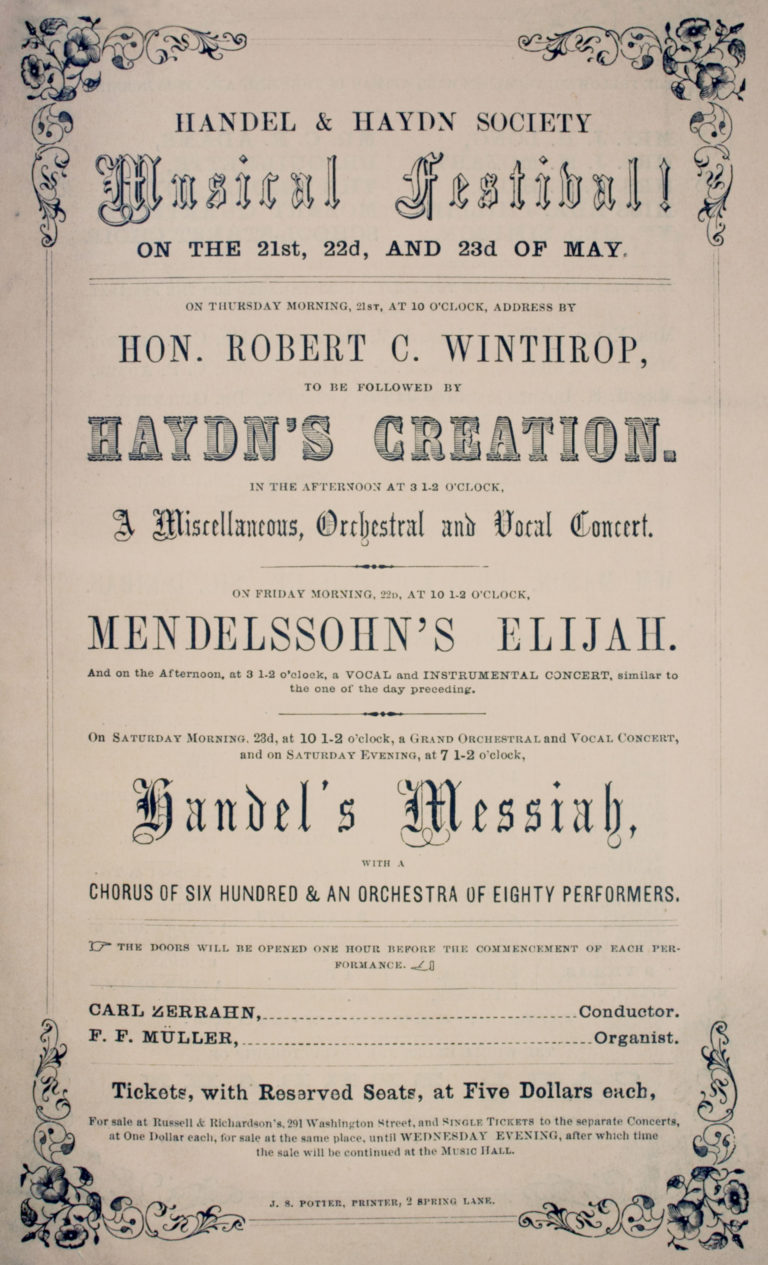 Program from the 1857 Messiah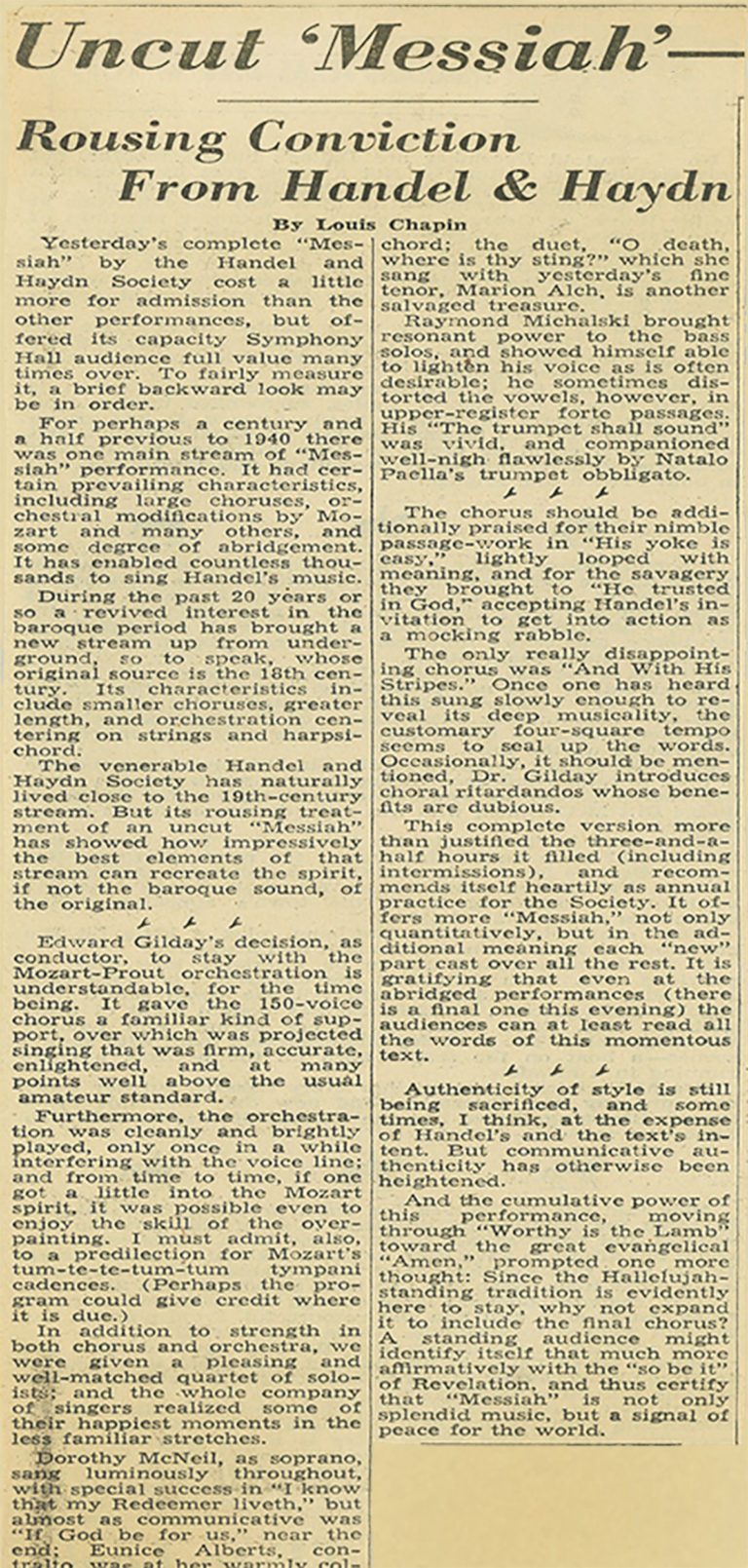 Newspaper clipping from Christian Science Monitor, December 10, 1962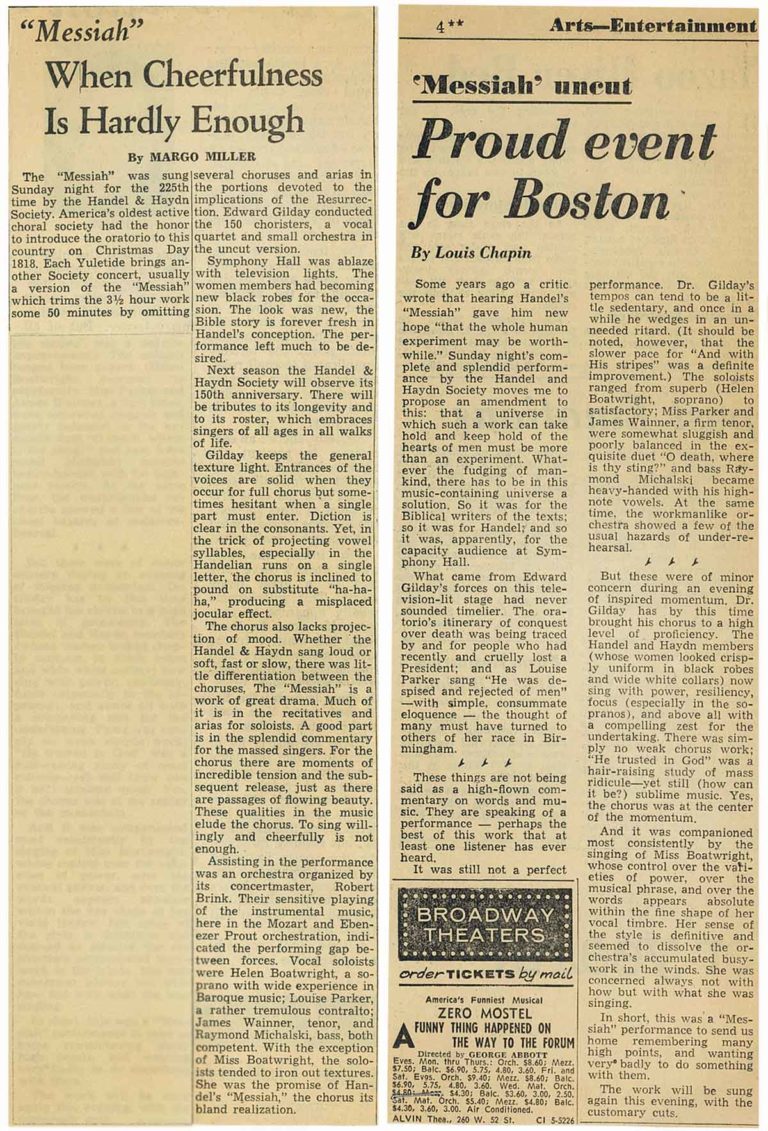 Newspaper clippings from Boston Globe (right) and Christian Science Monitor (left), December 16, 1963
"The Hall buzzes with crisp energy from patrons poised to experience something miraculous. When we all file on stage and take our seats we feel this energy too. It's contagious… It's humbling to be part of something so old and yet so new."
MARGARET LIAS
Mezzo-Soprano with H+H Chorus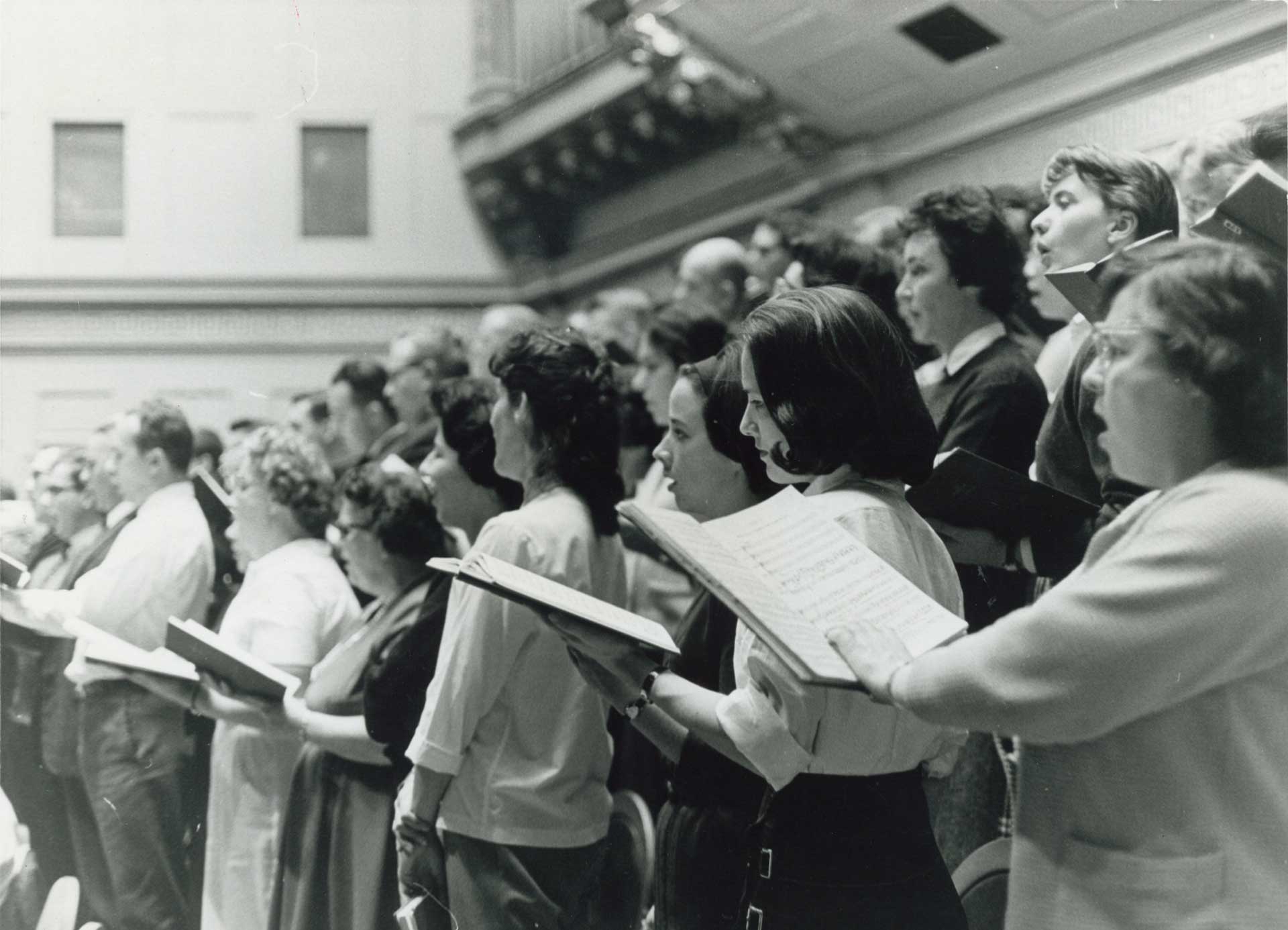 Over the course of two centuries of performance by the Handel and Haydn Society, Messiah has had many different sounds, impacted by the variety and shifting popularity of available versions and reorchestrations and reflected in the story of the Society's own evolving identity. Since its founding, the composition of H+H has changed dramatically, from a multi-hundred-person amateur chorus in the nineteenth century to a professional chorus of 50 in the present day, the orchestra permanently transitioning to period instruments in the late 1980s.
Explore the impact of these different approaches in the audioclips below.
"After each Messiah performance, we remark, 'It can't get any better than this.' And low and behold, it does."
KURT WOETZEL
H+H Concert Attendee