Overview
You're invited to a unique marriage of brilliant music and art, as H+H's virtuoso musicians perform jewels of the Baroque in the intimate setting of acclaimed artist Jonathan Sherman's personal Marblehead studio. You will leave uplifted and refreshed by the chance to mix with the musicians and artist in this treasured studio, brimming with energy and spirit.
Followed by a reception with the musicians and artist, with time to explore the studio and view the art, including refreshments.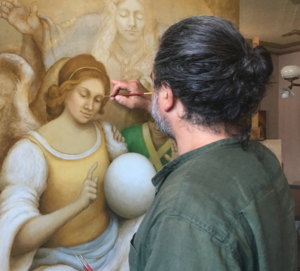 About Jonathan Sherman
Jonathan Sherman's oil paintings, drawings, and sculptures are housed in private and corporate collections throughout Europe, Australia, and the United States. In addition to completing over 30 commissions, Jonathan's works of Art have been part of group exhibitions throughout the United States and abroad. Learn more here.
Location
The Studio of Jonathan Sherman
112 Washington Street, Second Floor
Marblehead, MA 01945
Dates
Saturday, November 9 at 5:00pm
Saturday, November 9 at 8:00pm
Works By
Antonio Vivaldi
J.S. Bach
George Frideric Handel
Georg Philipp Telemann
Performed By
Emi Ferguson, flute
Aisslinn Nosky, violin
Susanna Ogata, violin
Guy Fishman, cello
Ian Watson, harpsichord
"H+H sparkled with style, musicality, and quite a bit of humor."
— Boston Musical Intelligencer
"The works of Jonathan Sherman have a sense of joyousness, and a radiant breath of well-being that spans space and time."
— Richard Adams Carey, Holderness School Today