Joseph Bologne, Chevalier de Saint-Georges: Violinist, Fencer, Soldier, and Classical-era Composer of African Descent
By Benjamin Pesetsky
With thanks to Teresa Neff
Joseph Bologne's Early Life
Joseph Bologne (1745–1799), Chevalier de Saint-Georges, held a remarkable number of occupations and positions during his life: composer, conductor, violinist, impresario, champion fencer, military officer, and nobleman. All even more remarkable considering the circumstances of his birth to an enslaved mother, Nanon, on the Caribbean island of Basse-Terre, part of the French colony of Guadeloupe.
Bologne's father, Georges, was a French plantation owner who acknowledged Joseph as his son and granted him the family surname, even though he was biracial and of illegitimate birth. Soon the family was forced to flee to France when the father was falsely accused of murder and Nanon and the child were threatened with being sold away. Following a pardon in 1749, they returned to Guadeloupe, but the young Bologne was soon back in France for boarding school.
Several years later, Bologne's father was granted a noble title, which created more opportunities and a steady income for the family. Joseph showed an aptitude for fencing and enrolled to study with the master-of-arms named La Boëssieère. As a mere student, Bologne defeated Alexandre Picard, a full-fledged master swordsman who had derided him as "La Boëssière's upstart mulatto." His father rewarded him with a gift of a horse and buggy, and after graduating Bologne was named a chevalier (a French knight) and called the "finest swordsman in Europe."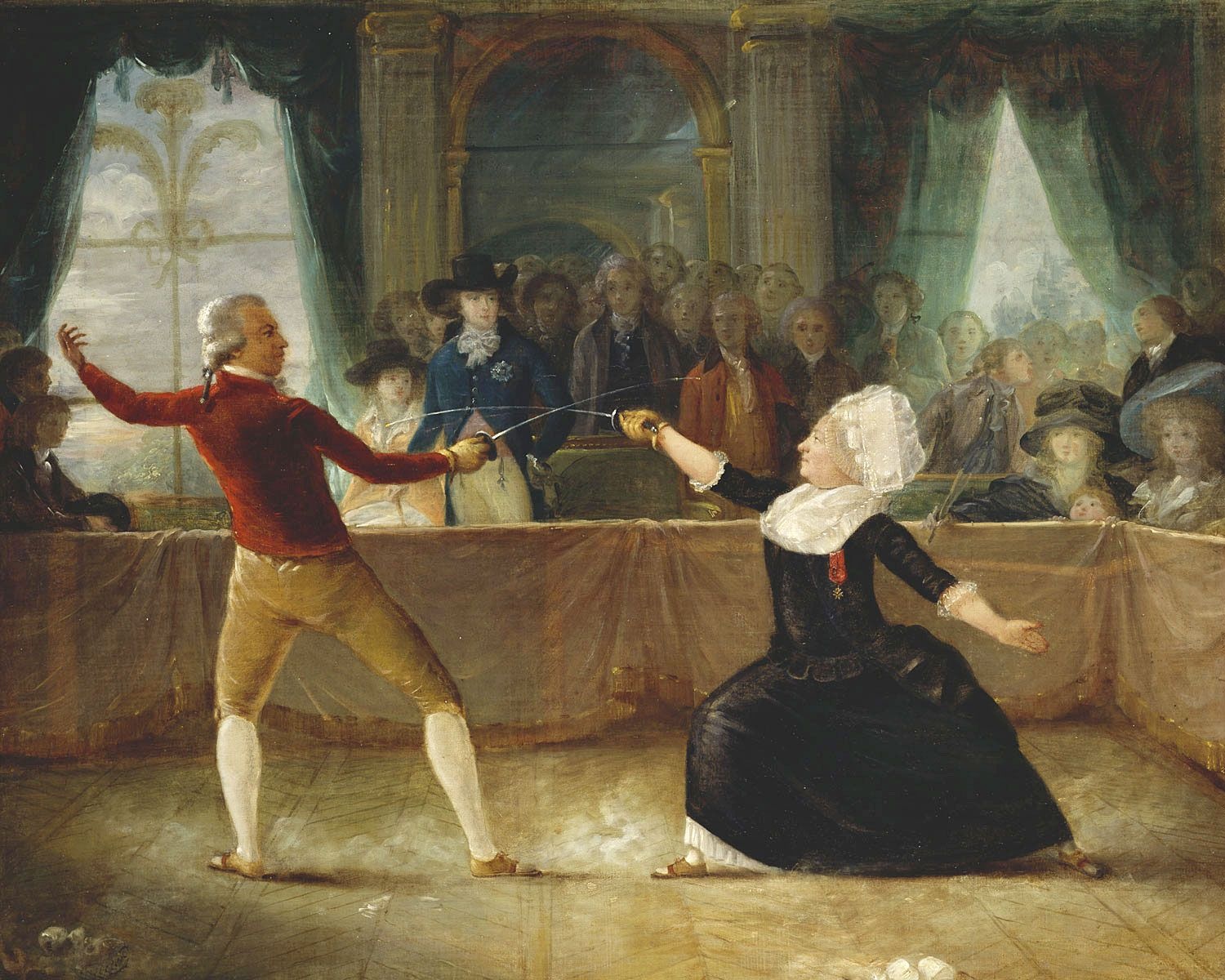 Fencing match between Saint-Georges and the Chevalier d'Eon at the Carlton house, London, on April 9, 1787 by Alexandre-Auguste Robineau (1747–1828).
At the same time, Bologne must have also been pursuing serious musical training (though no details are known), for he suddenly emerged as a composer in the 1770s, publishing 12 violin concertos, 10 symphonies, and two sets of string quartets. In 1772, he performed his own violin concertos with the Concert des Amateurs in Paris (a pioneering orchestra that offered one of the first public, subscription-based concert series in Europe), and he became its music director the following year.
Obstacles and Triumphs
Bologne, as a dashing and multi-talented nobleman, was widely admired and wildly popular in Parisian society. His biography records only sporadic instances of racist discrimination, though they could be significant. In 1776, for instance, he was put forward as a proposed music director of the Paris Opéra, where four leading female singers petitioned Marie Antoinette to prevent them from having to "submit to the orders of a mulatto." He was denied the job, but went on to write operas independently, and later became the music director for the private theater of Madame de Montesson, the second wife of the Duke of Orléans.
When the Concert des Amateurs dissolved in 1781 for lack of funds, Bologne founded a new orchestra called the Concert de la Loge Olympique. He commissioned Joseph Haydn (1732–1809) to write six new works for the orchestra, resulting in the Paris Symphonies in 1786. Following the disruption of concert life in the French Revolution, Bologne's musical career mostly ended and his works fell into neglect. Until recently, his music rarely appeared on concerts, and he was best remembered in music history simply as the commissioner of important Haydn works. That would certainly be a significant contribution on its own, but it misses the larger picture in which Joseph Bologne is a notable composer himself, and one of the first of African descent in classical music.
Revolution and Return
Bologne was also involved in politics and the military, first supporting the abolitionist movement in France and England, and then in 1792 being appointed colonel of the Légion des Américains et du Midi, a cavalry unit for "citizens of color" that reflected the revolutionary aspiration to égalité. Nonetheless, Bologne was imprisoned the following year during the deadly paranoia of the Reign of Terror. After 18 months, he regained his freedom and his command.
In 1795, Bologne was dispatched to the Caribbean on a mission to Saint-Domingue, which was in the midst of the slave revolt that became the Haitian Revolution. Returning to Paris, he resumed violin playing and briefly led another orchestra, the Cercle de l'Harmonie, to artistic acclaim, before dying of an infection in 1799.
See our upcoming concert Beethoven Symphony No. 7, including Joseph Bologne's Overture to L'amant Anonyme on January 7 + 9, 2022, conducted by Václav Luks.