H+H Salutes Harry Christophers
Artistic Director from 2009 - 2022
Harry Christophers has been the groundbreaking Artistic Director of H+H for 13 triumphant seasons. Harry redefined H+H's historically informed performances, delivering on the H+H mission to present transformative experiences with Baroque and Classical music.
During his tenure, Harry:
Has served as the 13th Artistic Director in H+H's 207-year history
Led the release of H+H's 15 CDs on the

 

Coro label and was the visionary influence

 

for H+H's unparalleled online performance

 

series that began in 2020
Has spread awareness of H+H beyond Boston, with critically-acclaimed performances at Tanglewood, New York's Metropolitan Museum of Art, and Carnegie Hall

 

Selected over 60 percent of the current roster of the current roster of H+H musicians, continuing to improve artistic

 

excellence
The May 1, 2022 performance of Haydn's The Creation marks Harry's final concert as H+H Artistic Director. 
Harry becomes Conductor Laureate in May, an honor reflecting the leadership he has brought to H+H.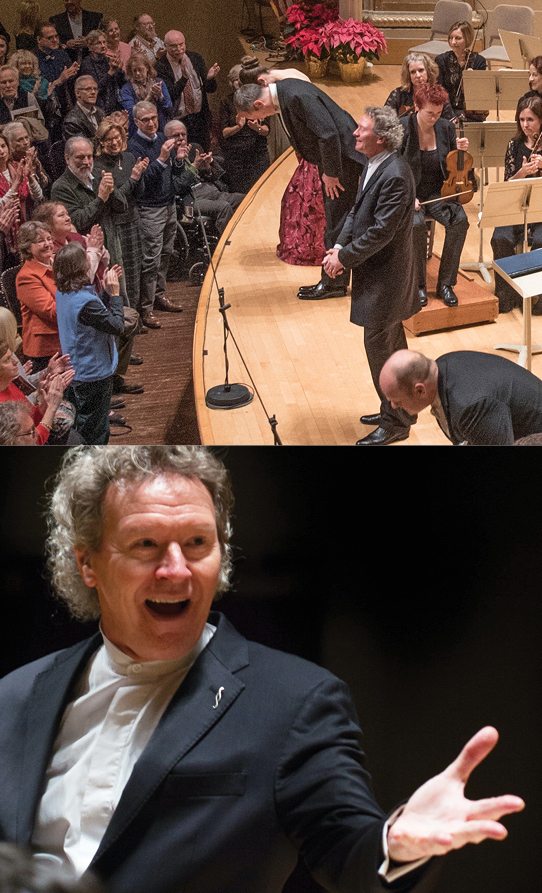 Selected Notes from the Audience
"Year after year, we traveled from Maine to see you conduct the Messiah. With my retirement in 2018 we have moved to Florida, escaping Maine winters. On April 29, we will be in the audience to see one of your last performances. Of all the people I don't know personally, you may be the only one to cause me to travel all the way from Florida, for one last concert and as a way of saying thank you for many years of great music."
"In 2011, I took a girl I had met a week prior to Symphony Hall for the H+H's 196th season performance of Beethoven's Fifth. Afterwards, we walked down Newbury street for a late dinner. The date went so well that I was able to get another date with her. We are now married, have two kids and a third one on the way. We love the Handel and Haydn Society, as it has been intertwined in our love story ever since. Bon Voyage Mr. Christophers. Thanks for all the memories."
"How many of us can say that we spent our lives giving joy to others? You can. Well played, sir. Bravo!"
"I was a part of H+H Youth Choruses for several years. H+H has given me so much, it has really made me who I am as a person. I had the opportunity
to meet you after our performance of Mozart's Requiem in 2019. You signed my score and we took a picture together which was delightful! You are such an amazing person and musician, and I look up to you so much. You are so awesome!!!"
"Dear Mr. Christophers, Over the years we've counted on your ability to move aside whatever the travails of the moment are and replace them with a place of calm and beauty. You have never disappointed. Forever in our memories is the first time we saw you paint the sky with the sweeping arc of your arm as you made physical the glorious crescendos of Messiah's Hallelujah Chorus and Amen. It was as if you were painting Symphony Hall with a comet's celestial colors, power and wonder."
Quotes from the Media
"The Handel and Haydn Society under the baton of Artistic Director Harry Christophers gave…the elixir of life. The result was nothing short of magic."
— The Boston Globe
"No conductor in Boston has quite the feel for this music as Christophers."
— Boston Classical Review
Musicians' Notes
"Harry has fundamentally changed the sound of the organization, and has maximized the potential that H+H has."
— Emily Marvosh, contralto
"Harry's trust of every musician in the orchestra allows all of us to feel really at home taking risks and making the most wonderful music we can with him as our leader."
— Emi Ferguson, principal flute
"The audience can feel that there's a connection between the conductor and the performers on stage, and it really deepens their understanding of what the music is."
— Aisslinn Nosky, concertmaster
"One of the ways in which we've grown is in our communicative power. That's the most important and powerful message that Harry has brought and leaves with us."
— Guy Fishman, principal cello
"Harry has helped everybody to maintain and to raise their own game."
— Ian Watson, principal keyboard