Overview
Harry Christophers lends his special touch to the last Messiah of his brilliant 13-year tenure as H+H's artistic director. The masterpiece comes alive for the 168th consecutive year as the unrivaled H+H Orchestra, Chorus, and spectacular soloists perform this stirring music—played the way Handel himself would have heard it. High-wire arias, dazzling instrumental fireworks, and awe-inspiring choruses make it Boston's must-see Messiah.
Presented by Ann and Graham Gund
Read some frequently asked questions about Handel's masterpiece Messiah here.
Location
Symphony Hall
Dates
Friday, November 26, 2021 at 7:30PM
Saturday, November 27, 2021 at 3:00PM
Sunday, November 28, 2021 at 3:00PM
Music
Handel: Messiah
Concert Length
The concert runs 2 hours 45 minutes including intermission.
Performed by
Harry Christophers, conductor
Carolyn Sampson, soprano
Emily Marvosh, contralto*
James Way, tenor
Roderick Williams, baritone
H+H Orchestra and Chorus
*We regret to announce that countertenor Reginald Mobley has been forced to withdraw from this week's performances due to illness. We are pleased to announce that contralto Emily Marvosh has graciously agreed to take his place.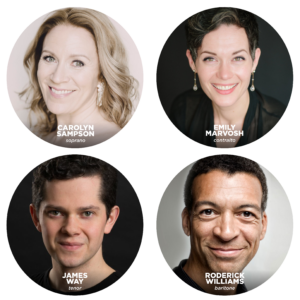 Musically Speaking Concert Preview
During this Concert Preview, learn about H+H's 207-year history with Messiah and hear insights about the piece from the musicians who bring it to life today.
Program Book
The Handel and Haydn Society's Messiah remains unmatched.
The Handel and Haydn Society's Messiah remains unmatched.