Project Handel: Messiah 06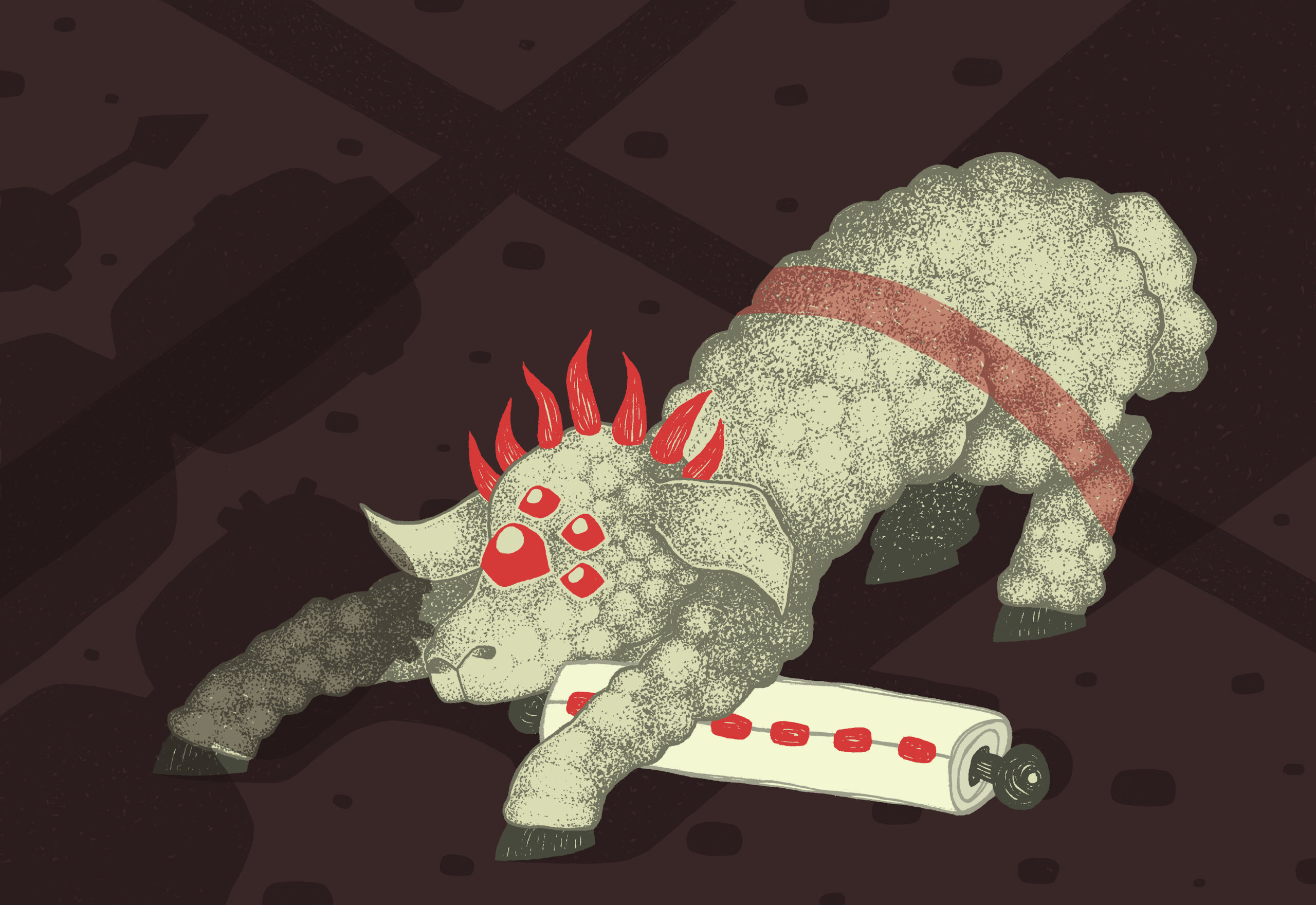 41
Ink, Digital
For my illustration, I particularly resonated with the lamb of God imagery. With the inspiration of the instrumental drama in the second and third parts of Messiah — and with lines such as "He hid not His face from shame and spitting"— I aimed to base my illustration on themes of empathy, sacrifice, and biblically accurate interpretation. Between the moody atmosphere and shadowy figures I intended to reflect the resentment described early in part two, with certain emphasis put on the number seven— an important number which is meant to represent the second coming of Christ.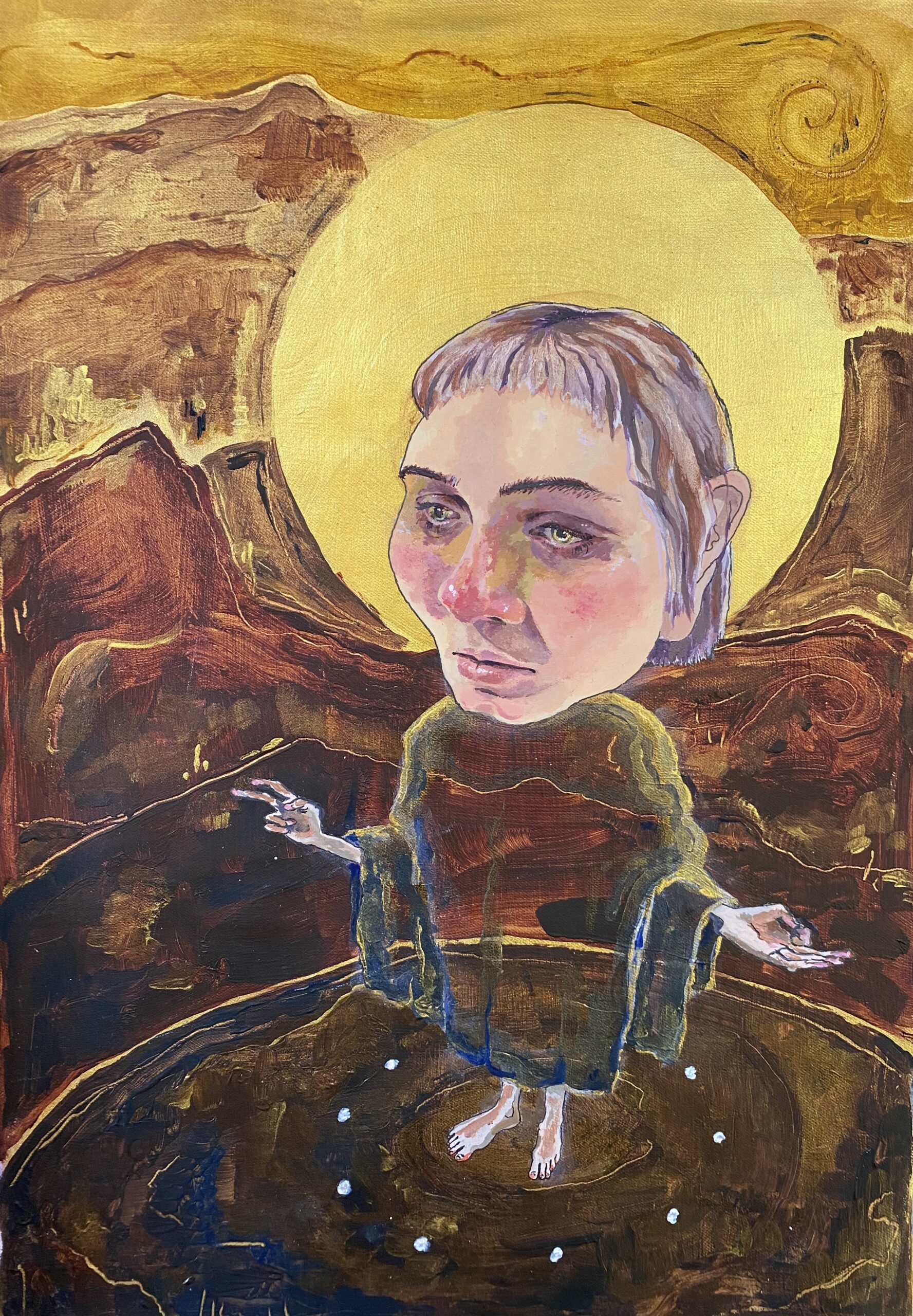 42
Acrylic on canvas
While I was listening to Handel + Haydn's Messiah, I wanted to ensure I connected the lyrics to the feelings I got from the music on it's own, and embody those in the imagery of my piece. After analyzing the lyrics I realized where part of our sense of comfort came from– the vocalists sing about a gross darkness that encompasses mountains and valleys, and the people who finally see a great light. In gazing upon God they cry, for they are forgiven. The eight white dots at the feet of the God figure represent those people. The number eight in the bible signifies resurrection or regeneration, so I chose this number as a representation of a new beginning for those figures.
43
Watercolor and colored paper
During the process of listening to Handel's Messiah, I envisioned a divine being, perhaps an embodiment of Mother Nature or a being responsible for nurturing ecosystems. Regardless of this character's specific role, my goal with this piece was to illustrate the themes of light and return of joy after darkness in Handel's work by portraying gnarly, deceased trees undergoing revival by this nature spirit. I collected a variety of references for this being's pose and face, and sought to make the character exude power yet also peace.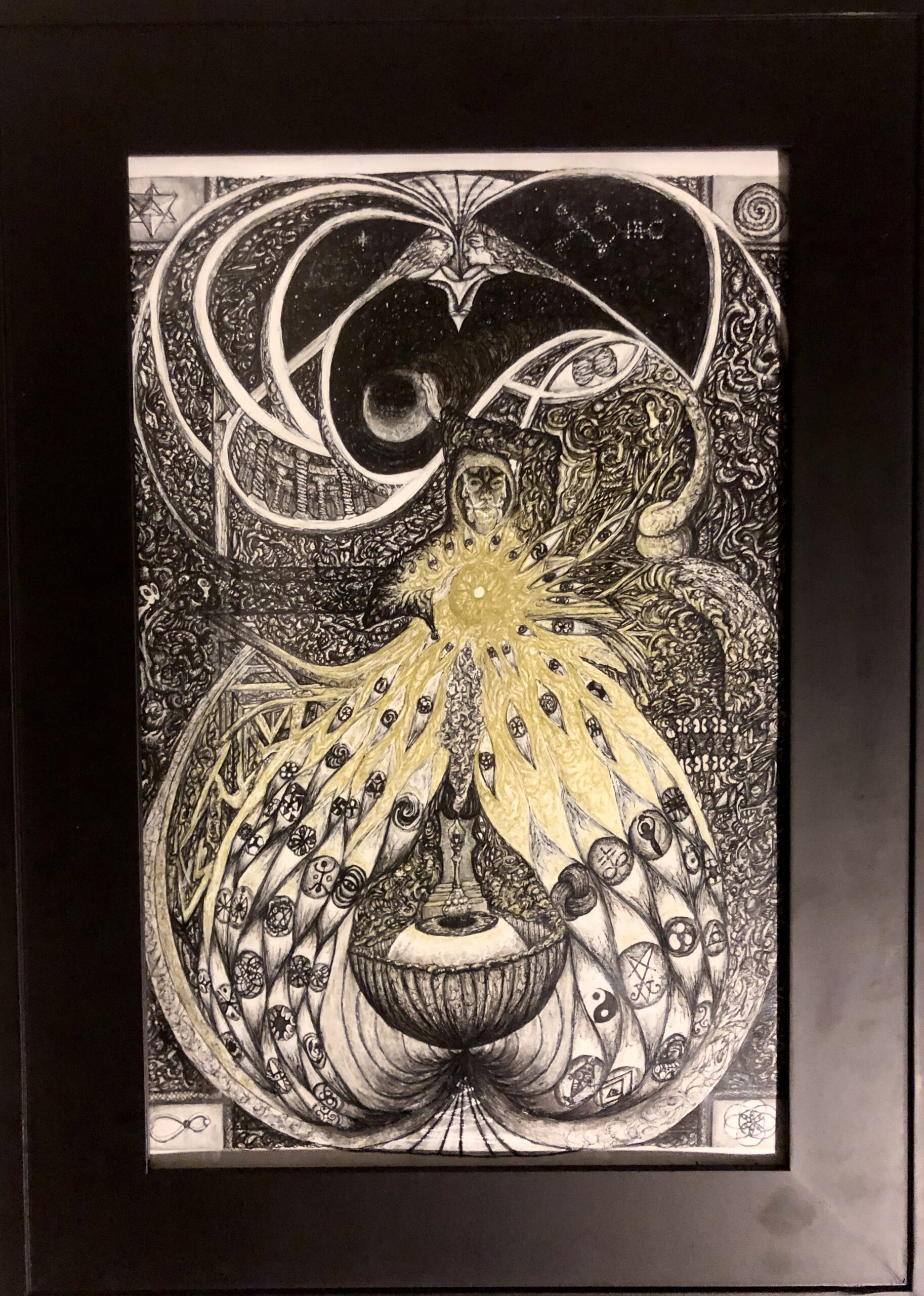 44
Ink
Sun life fulfills the earth, as the currents materialize us into physical beings. Our attempt is to tap into the higher frequency to allow us to vortex toward a higher density, also known as heaven. Ascension's gate is open. The tricky part about it is getting there. The secrets are in the sun, just look.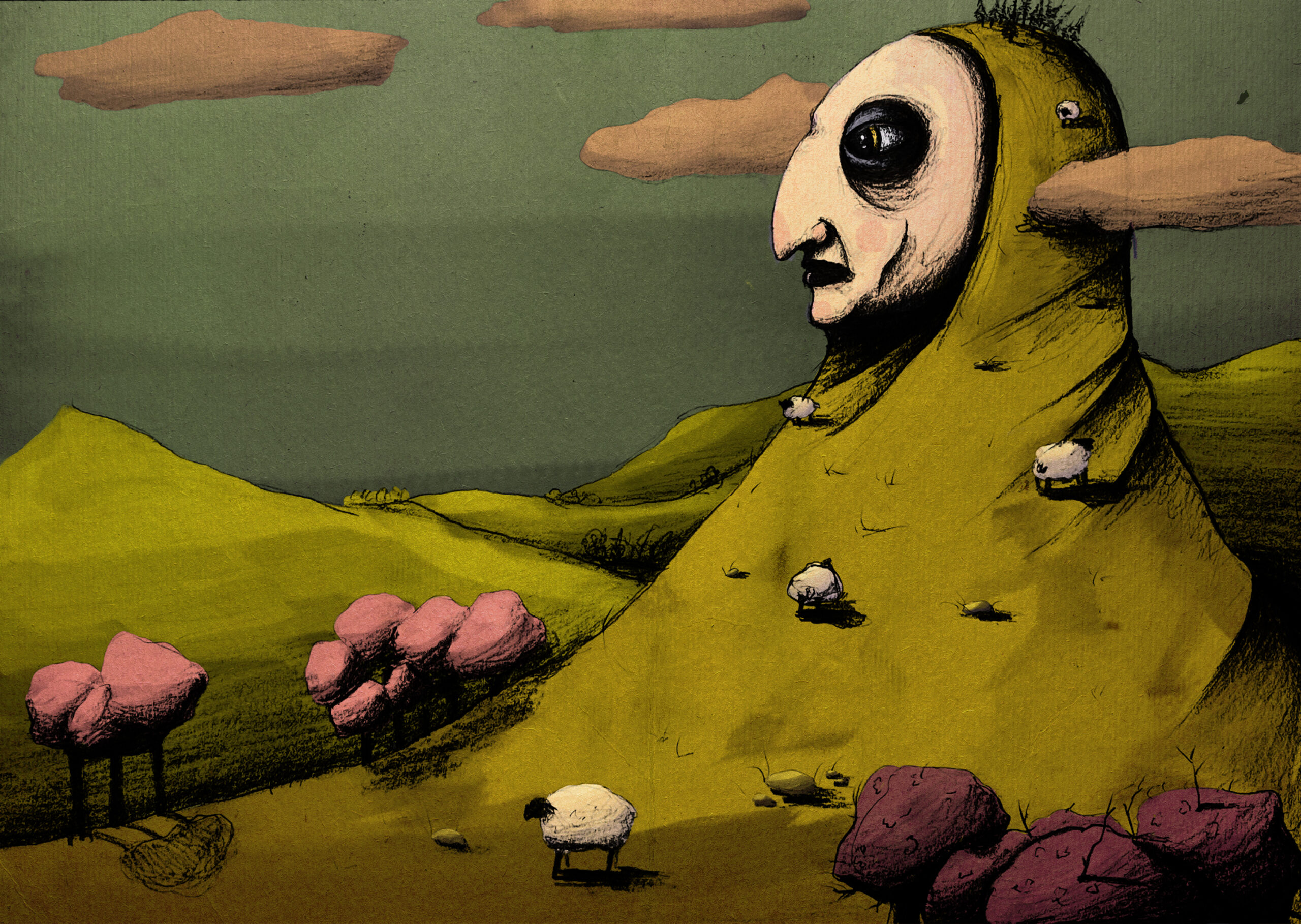 45
Computer-based Mixed Media
While listening to Messiah, I was instantly transported back to a trip I took to Ireland years ago. The image of sheep on top of high treeless mountains will forever be ingrained in my mind. The marriage of a mountain landscape and a giant sleepy face, covered in a cloth made of soil, was the direction the music took me.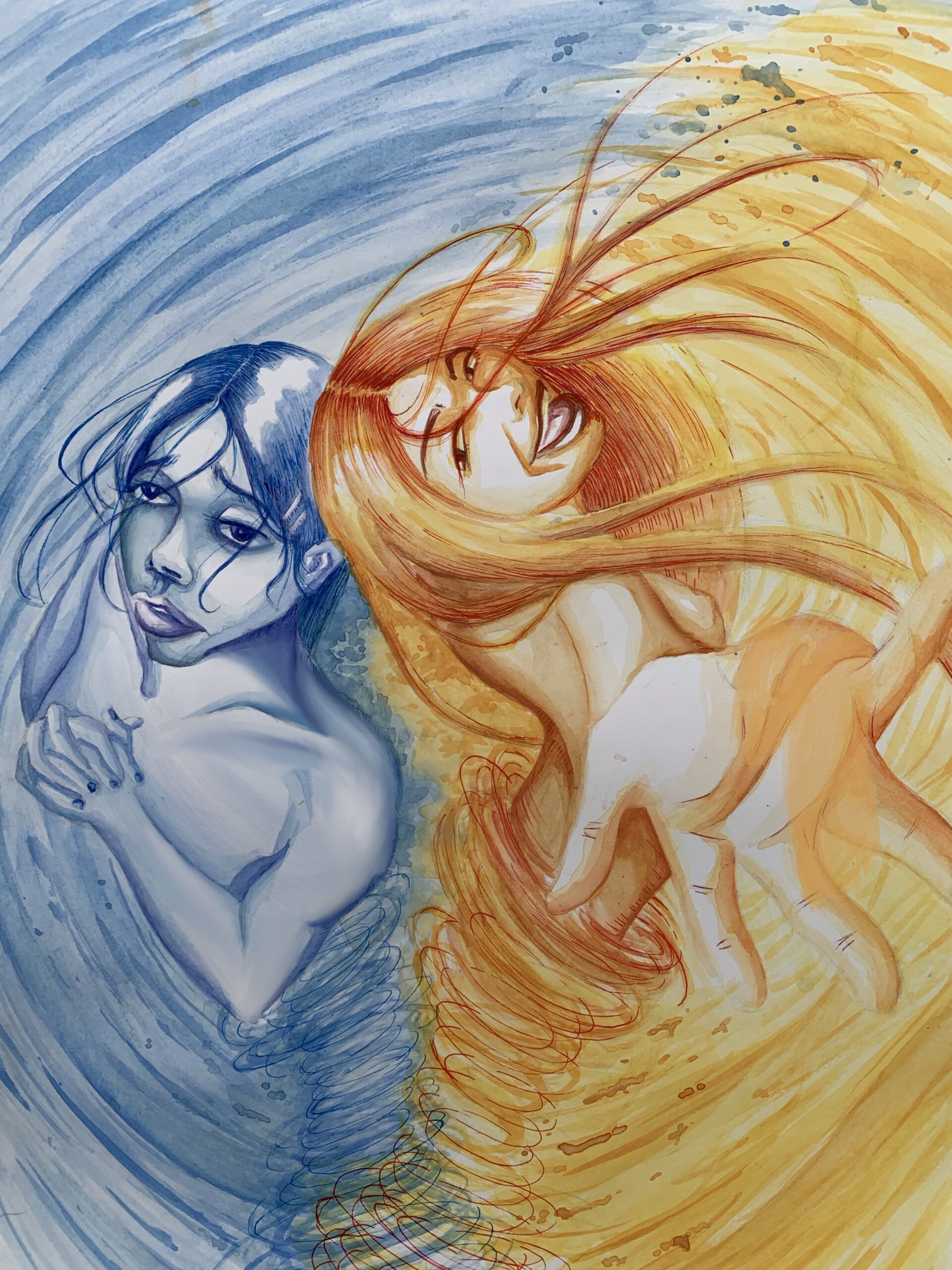 46
Digital and Watercolor
The loss of faith along with the celebratory cheers of freedom ran through my head as I listened to Part 1 of Handel's Messiah. I closed my eyes while listening, imagining a young woman trapped in an endless vortex of solitude with nowhere to go. I went with cooler tones for her to emphasize her melancholic demeanor. As I continued listening, the tone shifted to a more upbeat mood. This reminded me of the well known phrase, "The grass is always greener on the other side", hence the warm tone applied to the brighter side of this young woman. I wanted to portray these polar opposites by making my own version of yin and yang. From the beginning to end of part one, there are a range of emotional highs and lows, which led me to the idea of giving these figures their own vortexes that inevitably spiral into one another.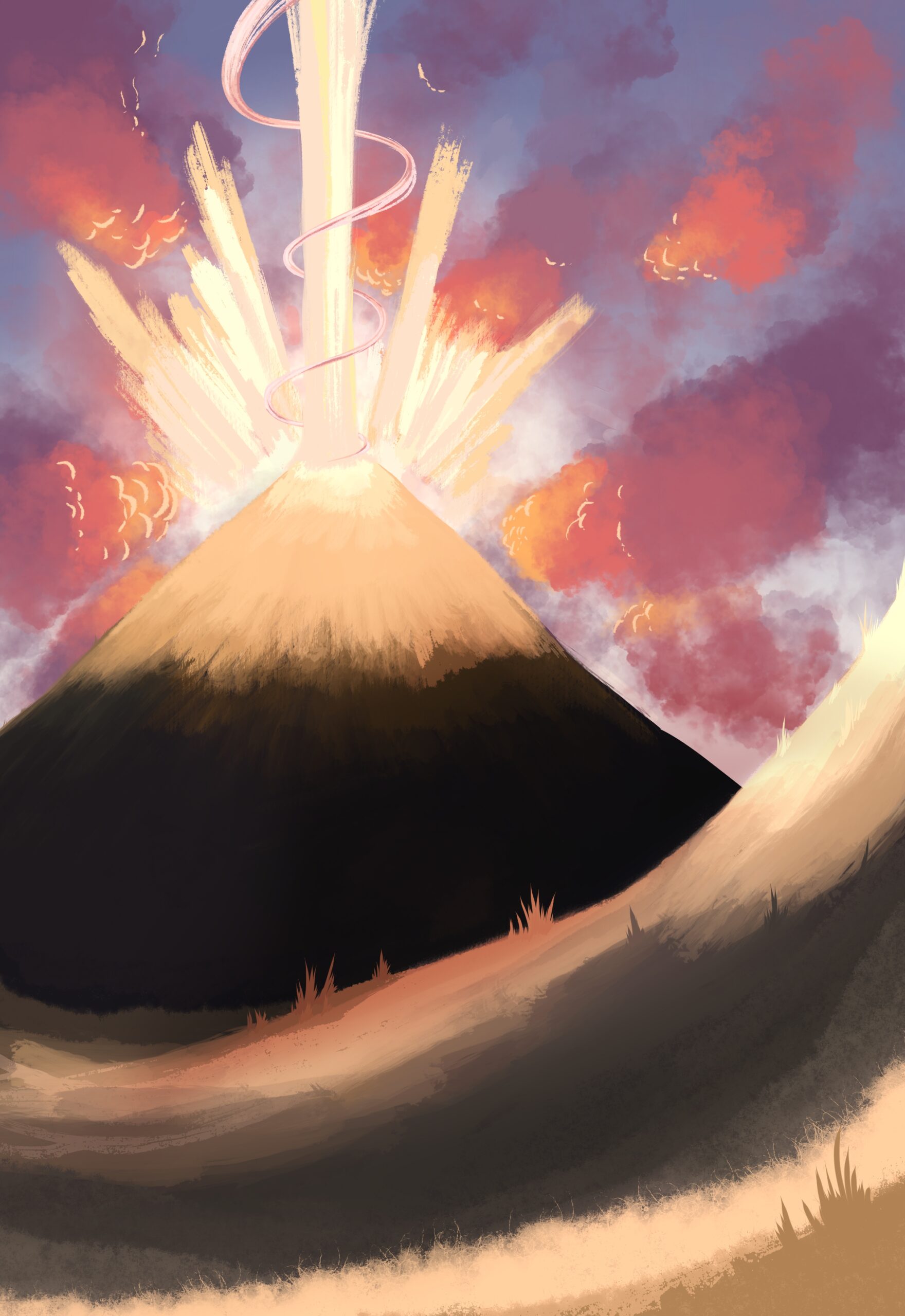 47
Digital
This piece is based off of a line in Part One that says: "The people in darkness have seen a great light". I wanted to illustrate this section in a way that portrays relief and a savior to walk towards. The point of view and atmosphere is trying to draw the viewer to come towards the mountain and receive happiness.