Diversity, Equity, Inclusion, and Accessibility (DEIA)
Our commitment to DEIA flows from our mission: "Inspire the intellect, touch the heart, elevate the soul, and connect us all with our shared humanity through transformative experiences with Baroque and Classical music". We continue to work to share our music widely and to create a welcoming environment for all to fully enjoy. We made good progress in the last year (2022-23) toward these goals and share highlights here with you as promised in our H+H DEIA Plan launched in 2021.
Overall, it was a wonderful season of bringing original and much loved musical performances to our stage: we visited new locations, welcomed many new audience members and artistic performers, and delivered world premieres that won accolades.
Follow this link for more detail.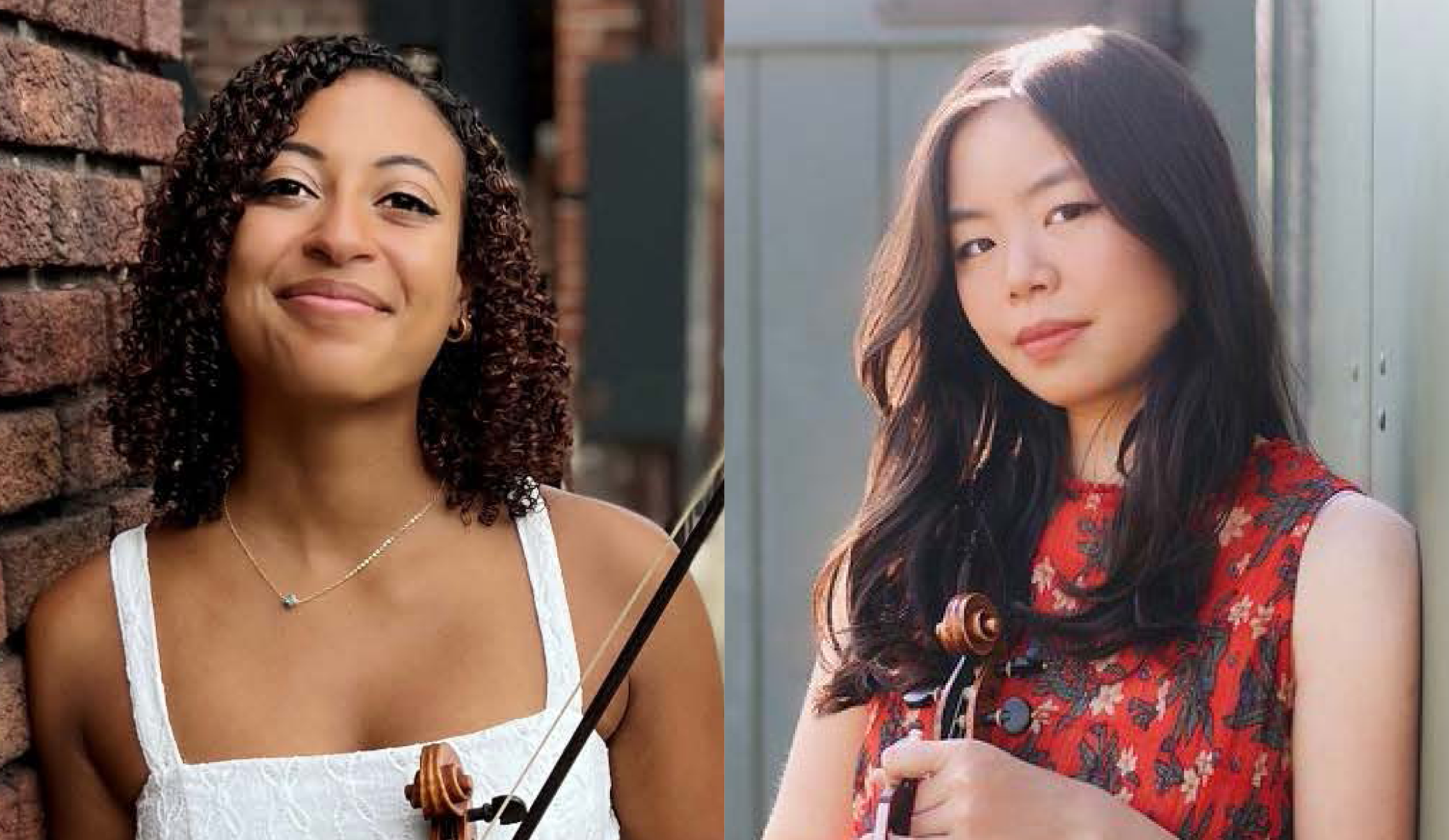 Carmen Lavada Johnson-Pájaro (L) and Amelia Sie (R), the Handel and Haydn Society's 2023-24 Season Period-Instrument Early Career Fellows
H+H Stone Fellowship
Fostering the development of early-career musicians.
A first of its kind among period-instrument orchestras, the Stone Fellowship fosters the development of early-career musicians whose socio-cultural identities have been historically underrepresented in our field. The Fellowship, in partnership with New England Conservatory (NEC), will further H+H's vision for a more diverse and equitable early music musician community on a national scale.
After an application and audition process, two Fellows were selected to for the 2023-24 Season. Read more about the current Stone Fellows - Carmen Lavada Johnson-Pájaro and Amelia Sie here.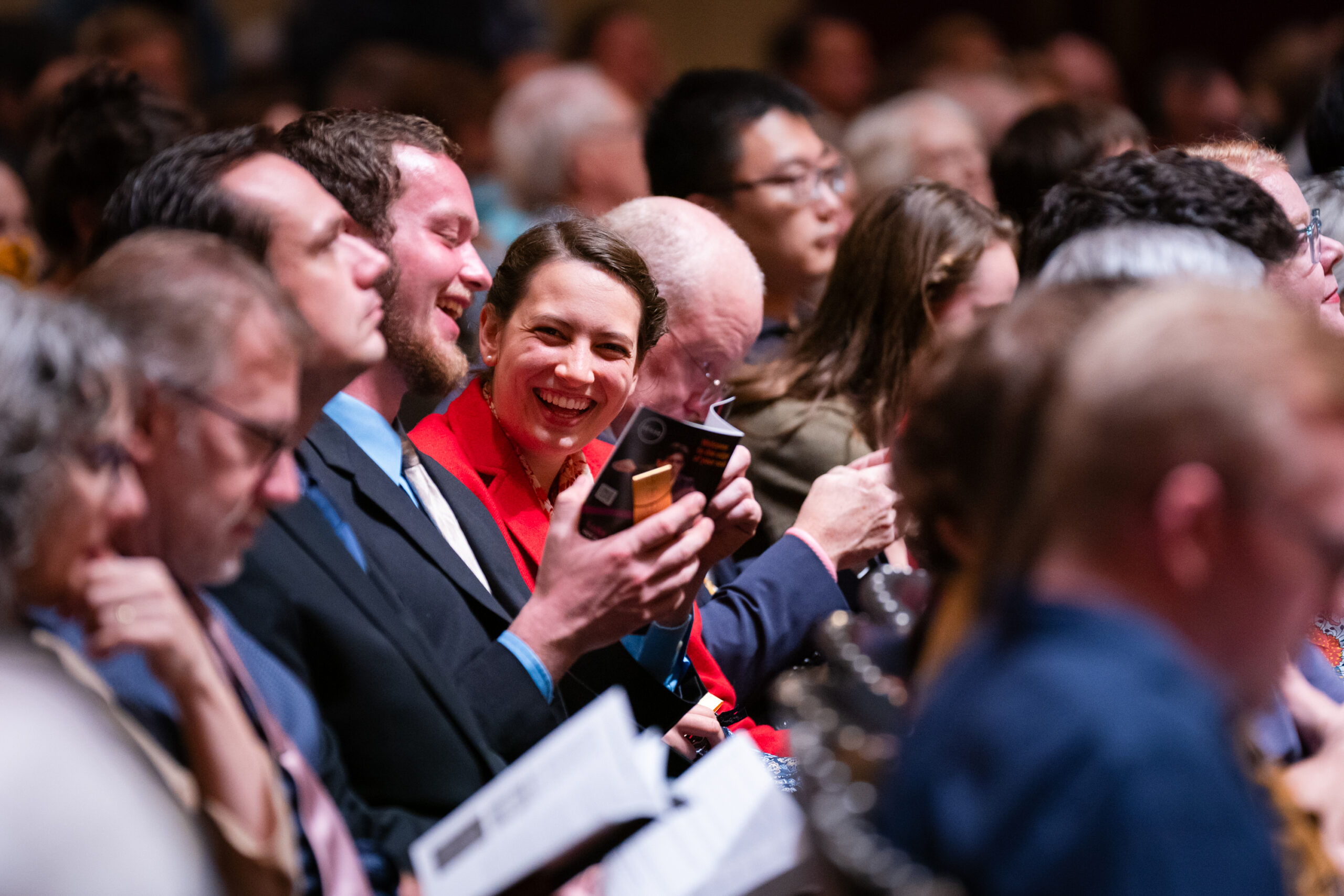 Our Audience
Growing with our community.
We are reaching out and you've responded. H+H has focused efforts on connecting with new potential audience members through community ticketing partnerships and collaboration with local universities and other affinity groups such as Artists for Humanity and Embrace Boston. We've added a dedicated staff member for this work. You can reach Danielle Qin, Audience Development Manager, at xqin@handelandhaydn.org with ideas for new H+H relationships.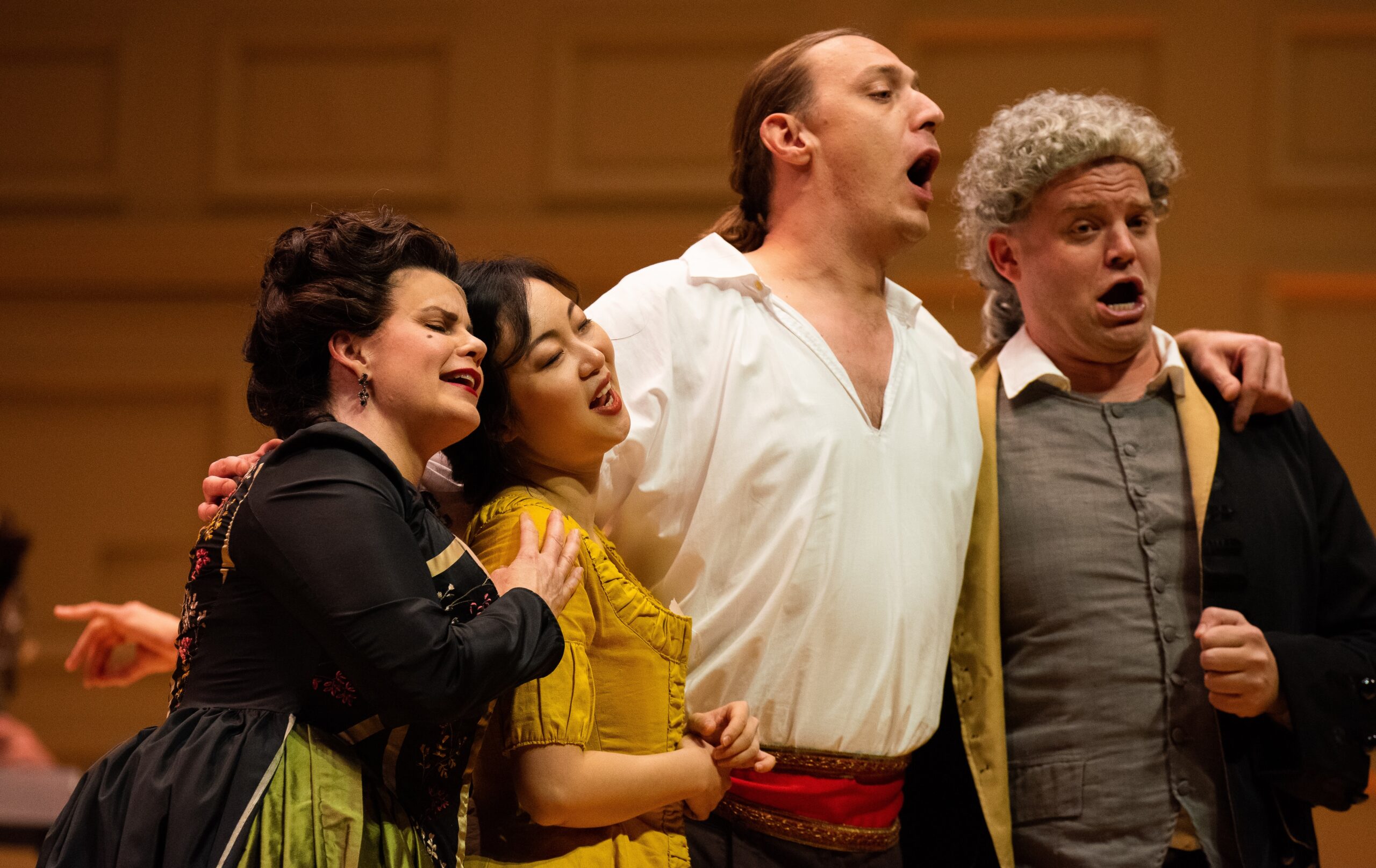 Artistic + Programming
Sharing the music: artists, repertoire, production.
Our production of a semi-staged opera, The Marriage of Figaro, was a highlight of the season. This was H+H's first opera and it featured a diverse cast of guest artists, attracting close to thirty percent first-time attendees from across New England.
Working toward other DEIA strategy goals: in general, we were successful in building our guest artist roster and delivered significantly more performer diversity on-stage. This speaks to audience members and supports our intent to make our performances inclusive for all. We also de-gendered on-stage costume rules and norms enabling our musicians to dress formally, as they are comfortable.
In June, H+H presented the world premiere of Crossing the Deep, a moving juxtaposition of American Negro spiritual works (1700s-1800s) with Handel's Chandos Anthems (1717-19). Created by Dr. Anthony Trecek-King, H+H's Resident Conductor of the Chorus, and Reggie Mobley, countertenor and H+H Program Consultant, Crossing the Deep was critically-acclaimed and—we heard you—audiences wish to see more of this boundary-breaking work from H+H.
"[H+H] gave what may be one of the most important concerts in its illustrious history... Crossing the Deep, rife with physical and emotional metaphor, paired 9 of Handel's Chandos Anthems with Negro Spirituals whose texts reflected on many of the same themes. The electrifying combination, as enlightening as it was unexpected, should dispel forever the notion that period music performed on period instruments is merely a museum outing." — The Boston Musical Intelligencer (June 5, 2023)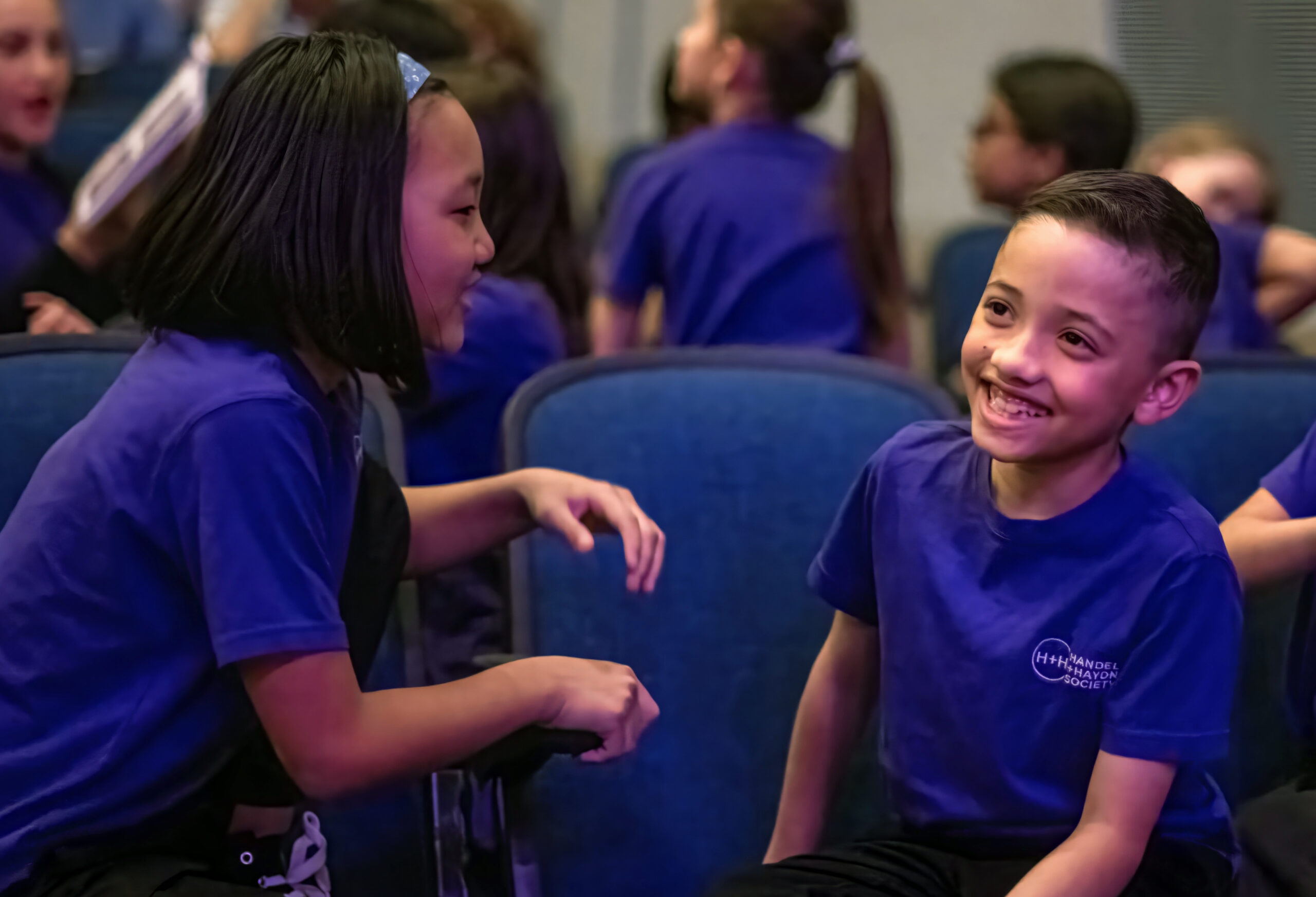 Learning
Engaging our children with music.
Our H+H Youth Choruses welcomed children aged 5 to 17 for joyous singing and quality musical training. Returning to on-site auditions at schools and other community gathering spaces this year was a welcome return to pre-COVID conditions; we met new participants and their families closer to home. Chorus members and soloists enjoyed stepping onto the Boston Symphony Hall stage in front of an audience of 500 people to sing with the H+H Orchestra – a rare and exciting experience for a child or young adult. Scholarships are available for participation, so finances are never a barrier.
Since 2013, H+H teaching artists have been delivering weekly in-school music instruction to students in 9 Boston elementary schools, which offered no other music classes. This work builds and fosters creativity, self-expression, and a broader world view.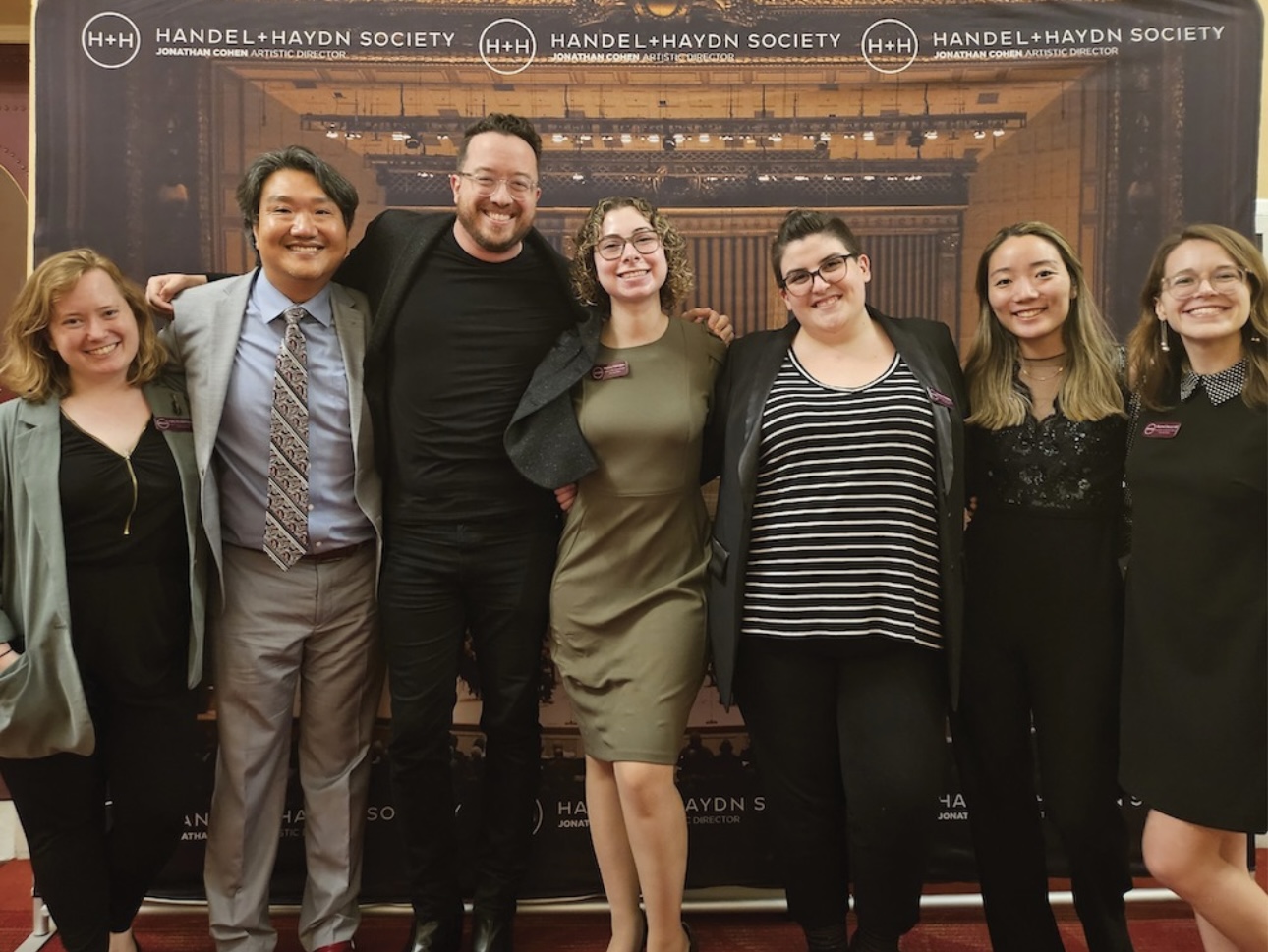 Members of H+H staff (L to R): Carly Rockenhauser, JongHun Kim, Chris Petre-Baumer, Mel Markstein, Melissa Tompkins, Natsuko Takashima, and Rachel Dacus Hill
Our People + Our Culture
Building a more diverse and inclusive H+H.
Building the diversity of our professional team increases our internal capacity to create and extend to others, so we're glad to report that we continue to welcome new staff and teachers that extend our reach in multiple ways. We continue to invest in our culture by gathering for staff learning and dialogue sessions three times a year.
On the operations side, a new communications plan gives us more reach and engagement and the implementation of annual culture surveys allow us to refine and improve our management efforts. Not to be forgotten, we enjoy each other's company with monthly off-site events celebrating our collection of personalities, cultures, and identities.
(L to R): William Carter, H+H artistic director Jonathan Cohen, and H+H Board member Dr. Holly Maze Carter
Our Board + Our Executive Leadership
Building a future with intention.
Board members are active supporters of H+H's diversity and inclusion work, putting their professional talents forward to build our visibility and potential. The Board maintains a Diversity, Equity, and Inclusion Committee (Chaired by James Hoyte) that meets quarterly to discuss progress and opportunities with staff. With objectives outlined in our strategic plan, the Board continues its efforts to build engagement widely across Boston, New England, and beyond.
Our new Artistic Director, Jonathan Cohen, begins his tenure with H+H on a strong note in terms of welcoming all to our events and performances. For example, he has had a series of "meet and greets" with H+H community partners like Artists for Humanity.